SALADS
Roast vegetable salad with tahini-lemon dressing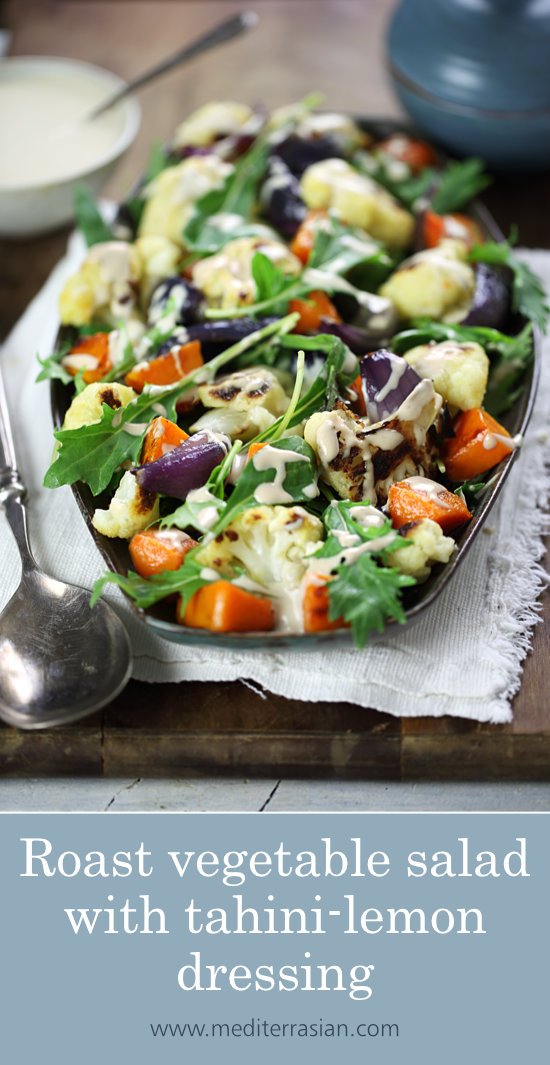 This rustic Middle Eastern roast vegetable salad is among the tastiest salads we've ever eaten, and that's saying something because we're BIG salad lovers.
The sweet, lightly caramelized roasted butternut squash, cauliflower and red onion, along with the crisp salad leaves and creamy cumin-spiked tahini and lemon dressing are an utterly mouthwatering combination. (And as you can see, it's also a feast for the eyes as well as the palate!)
You can roast the vegetables in advance, and keep the dressing and leafy greens separate, then assemble and dress the dish just before you serve. Its portability also makes it an excellent choice to take in a lunchbox for a workday lunch or pack for a picnic. To make it a meal in its own right, you can add cooked brown lentils or chickpeas, and serve with some torn pita bread on the side.
It's a good idea to make up twice as much dressing as you need because it's so versatile — spread in sandwiches and wraps, as a sauce with falafel, drizzled over grilled fish or chicken, or as a dip for veggie crudités.
Roast vegetable salad with tahini-lemon dressing
Serves 4
Roasted butternut squash, cauliflower and red onion combined with mixed salad leaves and drizzled with a creamy Middle Eastern sesame and lemon dressing.
½ cauliflower — cut into florets
2 cups cubed butternut squash
1 red onion — cut into wedges
2 tablespoons extra virgin olive oil
½ garlic clove — minced
¼ cup tahini (sesame seed paste)
⅓ teaspoon salt
⅓ teaspoon ground cumin
2 tablespoons lemon juice
2 tablespoons water
3 cups mixed salad leaves

PREHEAT the oven to 450°F/230°C. TOSS the cauliflower, butternut squash and red onion in the olive oil until well coated. ARRANGE the vegetables in a single layer on a large baking tray and cook for 15 minutes, then toss, and cook for a further 10 minutes. WHILE the vegetables cook, place the garlic, tahini, salt, cumin, lemon juice and water into a small bowl and mix thoroughly to combine. REMOVE the roast vegetables from the oven and allow to cool a little. PLACE the mixed salad leaves on a serving platter. ARRANGE the roast vegetables on top and drizzle over the tahini dressing.