SAUCES & DIPS
Roasted tomato and garlic sauce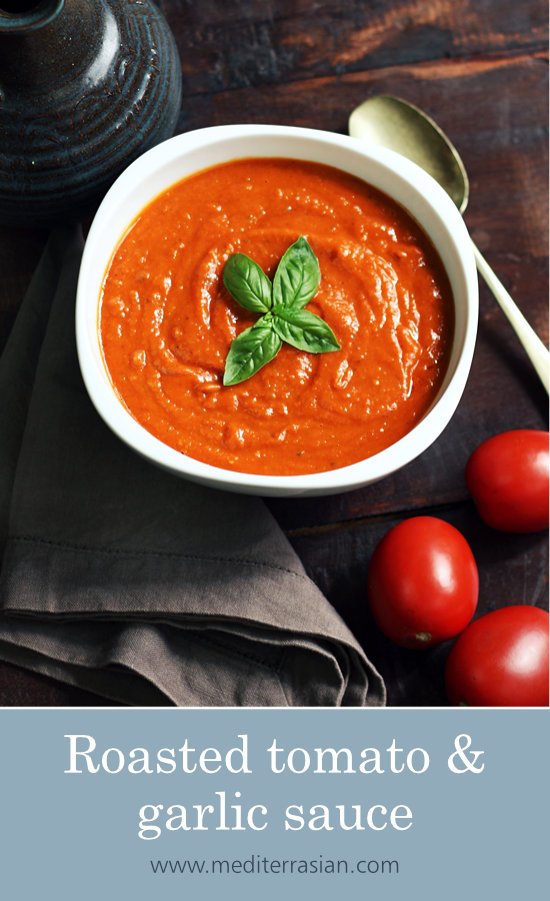 We absolutely adore this tomato sauce recipe. The secret to its wonderful depth of flavor is due in part to roasting the tomatoes in the oven, which caramelizes their natural sugars and intensifies their flavors. Also during roasting, the garlic cloves cook in their own skins, transforming them from firm and pungent into a soft, sweet pulp, ready to be squeezed straight into the tomato sauce. And because the cooking is all done in the oven it means there's no stirring or having to watch the saucepan (all the ingredients are simply blitzed in a blender or food processor at the end of cooking).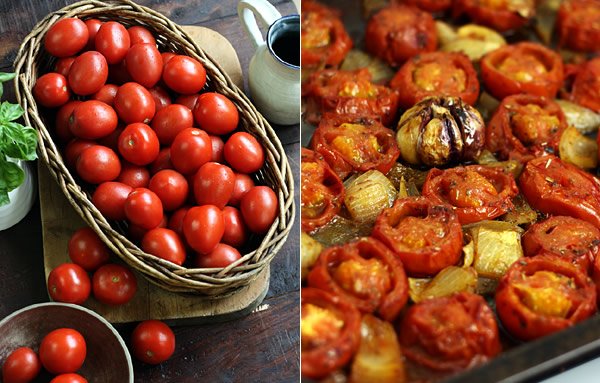 What we also love about this sauce is its sheer versatility. Here are some of our favorite ways to use it:
The most obvious serving suggestion is, of course, as a pasta sauce. One of our favorite combos is tossing the roasted tomato and garlic sauce with cooked spaghetti, green beans (added to the pasta water in the final 6 minutes of cooking), together with canned tuna, and some black olives. Other ingredients can be substituted: use broccoli or zucchini instead of green beans; replace the tuna with sardines or anchovies; and try capers or green olives instead of black olives.
You can easily transform this sauce into a richly-flavored tomato soup. Simply mix 2 cups worth with 1½ cups of good quality vegetable or chicken stock and heat through. It makes a really tasty meal with some crusty bread on the side, or you could easily add some canned beans and cooked small pasta shapes for a more substantial soup.
The roasted tomato and garlic sauce also makes a fantastic pizza sauce. Spread a thin layer of sauce evenly over a pizza base or whole wheat pita breads, and arrange your toppings of choice on top. We like to start with a mixture of grated Parmesan and mozzarella cheese, followed by thinly sliced mushrooms, red peppers, and olives. We also like to add anchovies, tuna, scallops or shrimp. The sauce itself is so flavorful that you only need a few toppings.
Use the roasted tomato and garlic sauce as the base for any number of Mediterranean-style stews. For instance, to create a Greek-inspired dish, add some shrimp or white beans, Kalamata olives, a splash of white wine and top with a handful of fresh parsley and feta cheese. Or, for a meal with Provençal flair, thin the sauce with a little stock or wine, add a sprig of fresh thyme (or a pinch of dried), a few chopped artichoke hearts or olives, and then gently poach some fish or mussels in the stew. Serve with some crusty bread (fresh or toasted and rubbed with oil and garlic) for mopping up the juices.
The sauce also works really well drizzled over grilled fish or chicken. We especially like grilled fresh tuna served on a bed of couscous, with the roasted tomato and garlic sauce drizzled on top, and a little finely-chopped parsley to garnish.
Roasted tomato and garlic sauce
Makes 2 cups
A wonderfully flavorsome sauce made with roasted tomatoes, garlic, and onion, accented with rosemary and oregano. Perfect as a pasta or pizza sauce, as the base for a Mediterranean-style stew, or diluted with a little stock to make a rich tomato soup.
3 tablespoons extra virgin olive oil
1 tablespoon tomato paste
1 teaspoon dried rosemary
1 teaspoon dried oregano
2 teaspoons salt
½ teaspoon freshly ground black pepper
½ teaspoon superfine (caster) sugar
2 lbs (900g) tomatoes — tops and bottoms cut off, and halved horizontally
1 onion — roughly chopped
1 whole garlic head — top part cut off to expose the cloves, keeping the head intact

PREHEAT the oven to 400°F/200°C. MIX together 2 tablespoons of the olive oil with the tomato paste, rosemary, oregano, salt, pepper and sugar in a small bowl until combined. PLACE the tomatoes and onion in a large baking dish and toss with the oil-herb mixture until the vegetables are well coated. PLACE the head of garlic in the middle of the dish, cut side facing up, and smear the top with a little olive oil. BAKE for 45 minutes, remove from the oven, and allow to cool a little. PLACE the roasted tomatoes and onion in a food processor, and squeeze in the pulp from the head of garlic. ADD the remaining tablespoon of olive oil and blend until smooth.