SAUCES & DIPS
Roasted red pepper and feta dip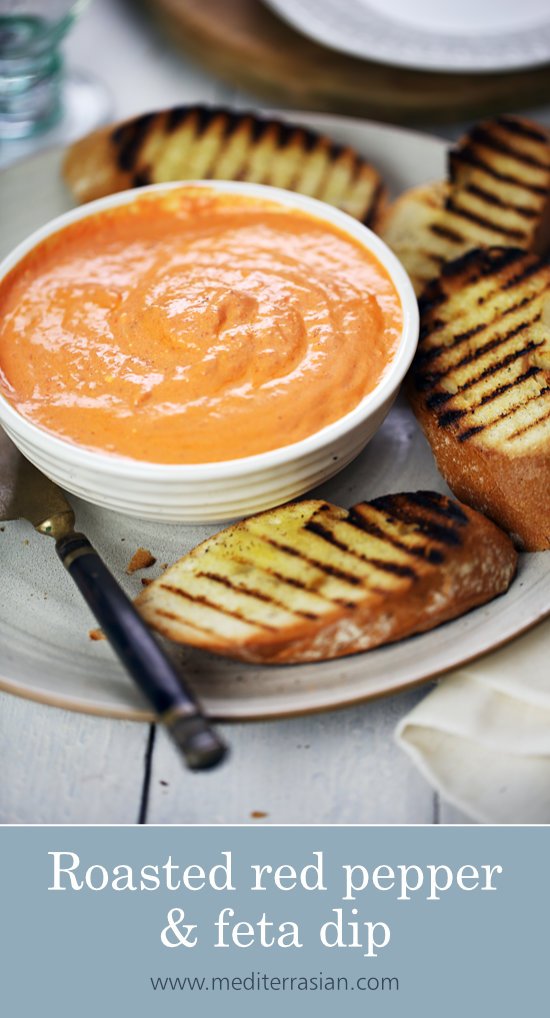 Homemade roasted red peppers are a mainstay at our place over summer. But when the season ends and winter is upon us, and red peppers become ridiculously expensive, we do away with roasting peppers ourselves and fall back on the jarred variety instead. Sure, nothing beats the taste and texture of home-roasted red peppers that you prepare yourself from fresh. But when peppers are out of season, or when you don't have the time, or just can't be bothered, or don't want to heat up the kitchen, then roasted red peppers straight from the jar are just the ticket as a handy standby.
This roasted red pepper and feta dip is one of many ways we use them. It's incredibly easy to make, only has five ingredients, and looks and tastes wonderful. The succulent red flesh of the roasted peppers is blended to a creamy consistency with flavorsome feta cheese and olive oil, and a touch of garlic and lemon juice to give it extra tang. A few tips for the best result: rinse the jarred peppers under water before using to remove the marinade; use good quality feta cheese — it makes all the difference; and put the dip in the fridge for a while to allow the flavors to infuse and the consistency to thicken.
We like to serve this dip as part of a meze selection with wedges of pita bread or slices of ciabatta bread (fresh or toasted) and vegetable crudités for dunking. It's also terrific as a topping for bruschetta or crostini, and makes a great spread for sandwiches. You can also use it as a creamy pasta sauce by thinning it first with a little of the hot pasta cooking water then tossing with pasta.
Roasted red pepper and feta dip
Serves 6
A creamy Greek-style dip made from a blend of sweet roasted red peppers, feta cheese, garlic, olive oil and a touch of lemon juice.
1 cup chopped jarred roasted red peppers
5 oz (140g) feta cheese — crumbled
2 tablespoons extra virgin olive oil
2 tablespoons lemon juice
1 garlic clove — minced

PLACE all ingredients in a food processor or blender and process until smooth, scraping the sides occasionally.