SIDE DISHES
Crispy rosemary-garlic potatoes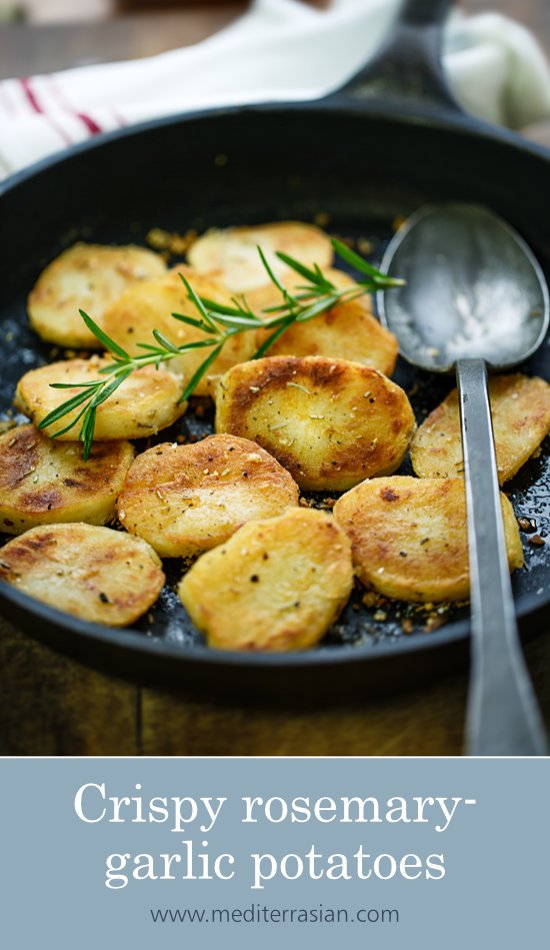 With the distinctive Italian flavor and aroma of rosemary and garlic, these pan-fried potatoes are dangerously moreish — and they take far less time to cook than roast potatoes.
To get the potato slices deliciously crisp on the outside yet soft and fluffy inside, we've found the trick is to boil the potatoes first before pan-frying them. Then at the very end of cooking we toss the potatoes with a mixture of garlic and rosemary. That way, the potatoes are crunchy, aromatic and garlicky without the risk of the garlic burning and turning bitter.
If you prefer, you can just scrub the potatoes and leave the skin on. And use fresh rosemary, one tablespoon finely chopped, instead of dried. Serve these tasty pan-fried potatoes as a side dish with fish or chicken, accompanied by other cooked vegetables or a fresh green salad. Or try them with an Italian-style roast chicken basted with olive oil, lemon juice, garlic and rosemary while baking.
Crispy rosemary-garlic potatoes
Serves 4
Thick potato slices pan-fried until crispy on the outside and fluffy on the inside, accented with rosemary, garlic and sea salt.
3 potatoes (floury varieties such as Russet or Idaho) — peeled and halved
3 tablespoons olive oil (plus an extra 2 teaspoons added at the end of cooking)
3 garlic cloves — finely chopped
1 teaspoon dried rosemary
Sea salt
Freshly ground black pepper

BOIL or steam the potatoes until just tender. Drain thoroughly and leave for 10 minutes to cool. PREHEAT 3 tablespoons of olive oil a large frying pan over medium-high heat. SQUARE off the edges of each potato half, then slice the potatoes into ½-inch rounds. COOK the potatoes for 6 minutes on each side until golden brown and crispy. MIX together 2 teaspoons of olive oil, rosemary and garlic in a small bowl until well combined. TOSSING constantly, add the mixture to the potatoes and cook for a further minute. SEASON the potatoes with salt and pepper and serve at once, while the potatoes are hot and crispy.