RICE & GRAIN DISHES
Roasted scallop and asparagus risotto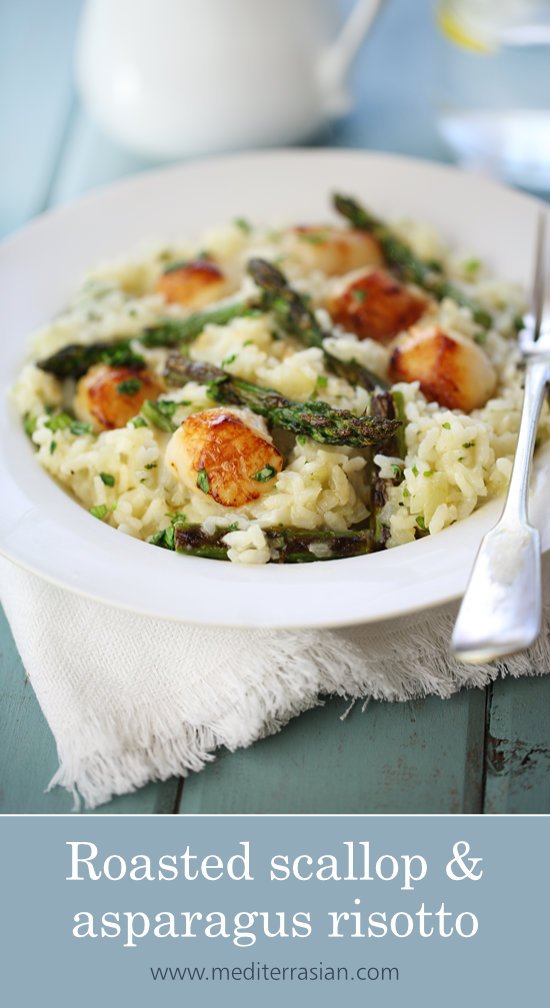 The region of New Zealand we live in is known for its tender sweet scallops and world class white wines. So what better way to celebrate these local delights than by combining them in this creamy, mouthwatering risotto.
We use two different techniques to simplify the cooking of this risotto. Firstly, we use our no-stir cooking technique which guarantees a perfectly cooked risotto and requires no stirring.
Secondly, we roast the asparagus and scallops in a very hot oven for a short amount of time. This "fast-roasting" brings out a similar flavor in the scallops to pan-searing them, but with less hassle. Fast-roasting also helps caramelize the asparagus and bring out its subtle flavors — and the spears become tender but still retain a slight firmness.
When the roasted scallops and asparagus are stirred into the cooked risotto with its herby, lemony flavors the combination is heavenly!
Roasted scallop and asparagus risotto
serves 2
Tender scallops and asparagus are fast-roasted and stirred through a creamy risotto accented with basil, lemon and Parmesan.
12 fresh asparagus spears — bottoms trimmed and cut into 2-inch pieces
16 uncooked scallops — roes removed and patted dry
4 tablespoons extra virgin olive oil
1 onion — finely chopped
2 cloves garlic — finely chopped
1 teaspoon finely chopped lemon zest
¾ cup arborio rice
½ cup white wine
2 cups fish, vegetable or chicken stock
½ teaspoon salt
½ teaspoon freshly ground black pepper
1 tablespoon lemon juice
1½ tablespoons finely chopped fresh basil
⅓ cup grated Parmesan cheese
PREHEAT the oven to 450°F/230°C. HEAT 3 tablespoons of olive oil in a large saucepan over a medium heat and cook the onions 6 minutes. ADD the garlic and lemon zest and cook 2 minutes. ADD the rice and cook a minute, stirring to coat the rice with oil. ADD the wine, stock, salt and pepper and bring to the boil. COVER with a lid, reduce the heat to low and cook 20 minutes. WHILE the risotto cooks, toss the asparagus with 2 tablespoons of oil, place in a single layer in a baking tray, and bake 8 minutes. TOSS the scallops with 1 tablespoon of oil. TRANSFER the asparagus from the baking tray to a plate and set aside, then quickly place the scallops in a single layer on the same baking tray, return to the oven and bake 3 minutes. REMOVE the scallops from the oven, and stir into the risotto with the asparagus, lemon juice, basil and cheese and mix until well combined.