SALADS
Asparagus, avocado, corn and feta salad with lemon-basil vinaigrette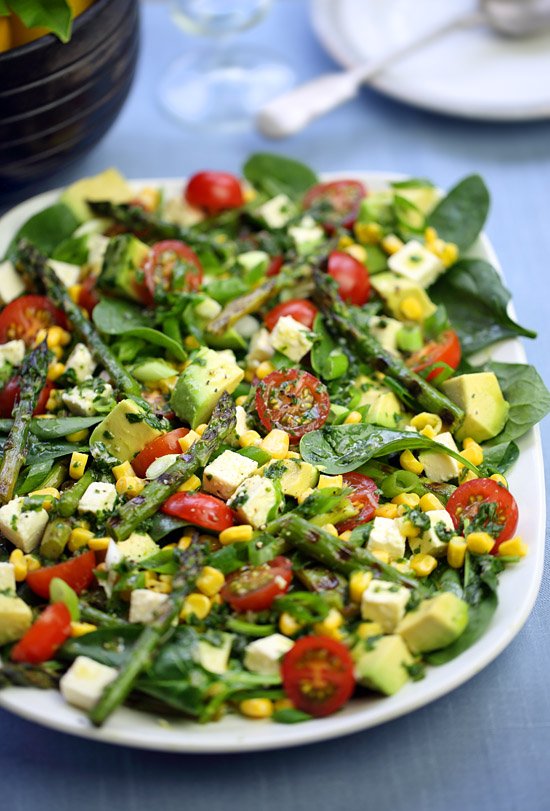 Asparagus has such a unique flavor and delicate texture. It's also low in calories, a good source of dietary fiber and contains plenty of health-giving beta carotene, folate and potassium. The only downside to asparagus, of course, is the infamous 'Asparagus pee.' As far back as 1781 Benjamin Franklin noted that "A few stems of asparagus eaten shall give our urine a disagreeable odor."
So what exactly is it in asparagus that causes this reaction? It's actually a compound called Asparagusic acid that when broken down in the body releases sulfur compounds that typically have an unpleasant scent. But while these sulfur compounds might be a bit smelly, they're also very beneficial because they have anti-cancer properties. So even though there's a bit of a downside to eating asparagus, we reckon the benefits far outweigh the risks!
Here's one of our absolute favorite asparagus recipes.
Asparagus, avocado, corn and feta salad with lemon-basil vinaigrette
Serves 4
Asparagus, avocado, corn, feta and tomatoes combined with delicate baby spinach and coated in a tangy lemon-basil vinaigrette.
12 asparagus spears — ends cut off
2 cups baby spinach leaves
½ cup sweet corn kernels
12 cherry tomatoes — halved (or 2 diced tomatoes)
1 avocado — cut into small cubes
1 scallion — thinly sliced
2½ oz (70g) feta — cut into small cubes
3 tablespoons extra virgin olive oil
1 tablespoon lemon juice
1 tablespoon water
1 tablespoon finely chopped fresh basil
½ garlic clove — minced
¼ teaspoon salt
¼ teaspoon freshly ground black pepper

GRILL, broil or boil the asparagus until tender, then cut the spears in half. PLACE the olive oil, lemon juice, water, basil, garlic, salt and pepper in a jar with screw-top lid and shake until combined. TOSS the cooked asparagus, spinach, corn, tomatoes, avocado, scallion and feta with the dressing and serve in a large bowl or platter.

Variations: Use fresh corn on the cob when it's in season and grill it with the asparagus. Once the corn is cooked and golden brown, use a sharp knife to cut the kernels off the cob. To make a meal of this salad, add grilled shrimp, scallops, salmon or chicken.