SANDWICHES & PIZZA
Smoked salmon and feta pizza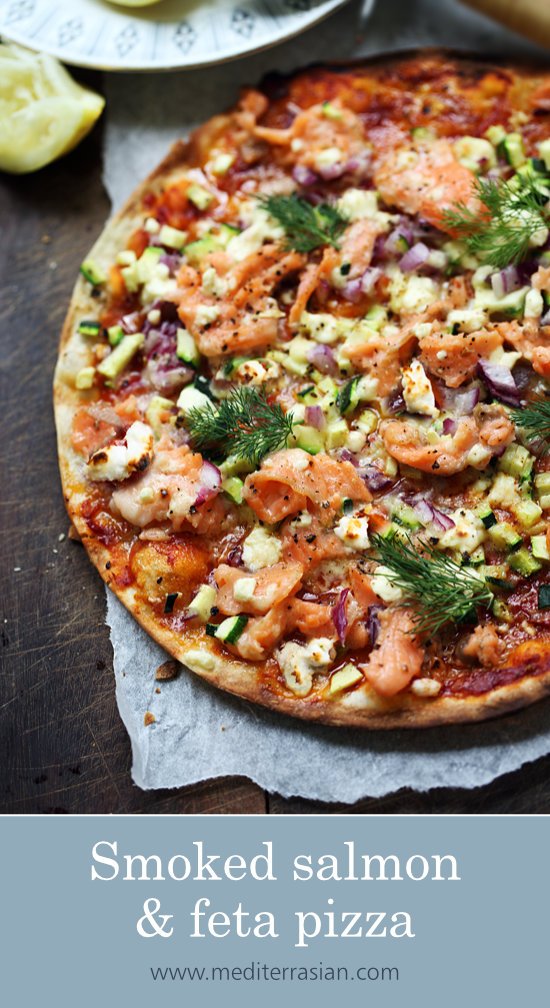 We've made pizza with tortillas as a crust in the past, with varying degrees of success. We've found that because they're so thin they tend to dry out and become brittle, and too crispy (almost like a cracker). But we've discovered a great way to cook pizza where the tortilla base doesn't dry out, and it remains sturdy.
All we do is cook the pizza for three minutes in a preheated lightly oiled frying pan first. This allows the base of the flat bread to get crisp but not dry, while the pizza toppings also start to cook and the cheese begins to melt as the heat penetrates the thin tortilla. Then it only takes two minutes under the oven broiler to be fully cooked.
Another key to the success of this pizza is the simple pizza sauce. We just mix together a little olive oil and tomato paste and spread it over the tortilla. This gives a lovely tomatoey taste without making the thin base soggy.
For this pizza we've used smoked salmon, feta and zucchini as the toppings, but you can put many different toppings on flat bread pizzas (including your own favorite pizza cheese) — but don't overload them. Choose ingredients that only need quick cooking, lighter toppings that suit the thin base. Apart from zucchini and red onion, other tasty vegetable toppings include mushrooms, finely diced red or green peppers, and baby spinach. Instead of smoked salmon you could use anchovies, baby shrimp, canned tuna, shaved ham, or shredded rotisserie chicken. Other yummy toppings that don't weigh down the tortilla are sliced olives, sun-dried tomatoes, and quartered marinated artichoke hearts. Apart from dill, you can scatter over fresh basil, parsley or mint. Or if you don't have any fresh herbs use dried — oregano or rosemary work well.
Smoked salmon and feta pizza
Serves 2
Thin crust "pan" pizza topped with delicate smoked salmon, creamy feta and diced zucchini, and accented with lemon and dill.
1 large flour tortilla (whole wheat or regular)
4 teaspoons extra virgin olive oil
1 tablespoon tomato paste
½ clove garlic — minced
½ zucchini — finely diced
2 tablespoons finely diced red onion
3½ oz (100g) thinly sliced smoked salmon — cut into pieces
2½ oz (70g) feta cheese — crumbled
Freshly ground black pepper
Fresh dill, for garnishing
Lemon juice, for squeezing
PREHEAT the oven broiler (griller) to high. PREHEAT 2 teaspoons of olive oil in a large frying pan over medium heat. MIX together the remaining 2 teaspoons of olive oil with the tomato paste and garlic until well combined. SPREAD the mixture evenly over the tortilla. TOP with the zucchini, red onion, smoked salmon and feta. SPRINKLE with freshly ground black pepper. PLACE the pizza in the preheated fry pan and cook for 3 minutes. REMOVE the pan from the stove-top and place under the preheated oven broiler around 6 inches from the heat source. COOK for 2 minutes. TRANSFER the pizza to a serving plate, arrange the fresh dill fronds on top and squeeze over a little fresh lemon juice. CUT into slices to serve.