SALADS
Potato and smoked salmon salad with creamy avocado dressing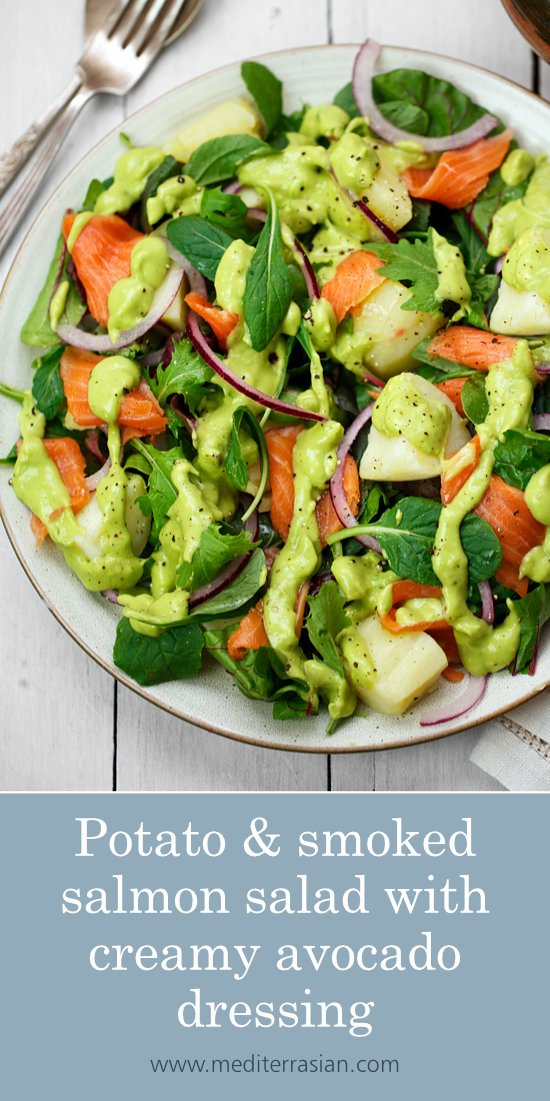 Great food that's great for you — that's how I'd best describe a MediterrAsian way of eating. This opulent salad is the perfect example. It doesn't just taste wonderful, it's also packed with nutritional goodness.
The buttery smoked salmon is a great source of protein and omega-3 fatty acids. The luscious dressing is made primarily with avocado and extra virgin olive oil — two excellent sources of heart-healthy monounsaturated fat. The crisp salad greens are rich in vitamins, minerals and antioxidants. And the potato provides complex carbohydrates to fuel your muscles and brain, and they're also a good source of fiber, potassium and vitamin C (and because the potatoes are eaten together with protein and goods fats, it means they're digested slowly and don't cause blood sugar spikes).
But the last thing we were thinking about when we were chowing down on this salad was the nutritional content. We were too busy savoring the taste!
Potato and smoked salmon salad with creamy avocado dressing
Serves 4
Delicate slices of smoked salmon combined with chunks of potato and crisp mixed salad greens, and drizzled with a deliciously creamy avocado dressing.
1 lb (450g) potatoes — peeled and cut into bite-size cubes
1 avocado — peeled and roughly chopped
1 clove garlic — minced
3 tablespoons extra virgin olive oil
3 tablespoons lemon juice
⅓ cup water
1 teaspoon salt
¼ teaspoon freshly ground black pepper
3 cups mixed salad leaves
7 oz (200g) sliced cold smoked salmon
¼ red onion — thinly sliced

BOIL the potatoes for 10 minutes then rinse under cold water and drain thoroughly. PLACE the avocado, garlic, olive oil, lemon juice, water, salt and pepper in a blender and process until smooth and pourable (start with ⅓ cup water and add more water if needed to reach a pourable consistency). ARRANGE the salad leaves on the bottom of a large serving plate, top with the cooked potatoes, sliced smoked salmon and red onion. DRIZZLE the avocado dressing over the salad.