SALADS
Spanish white bean salad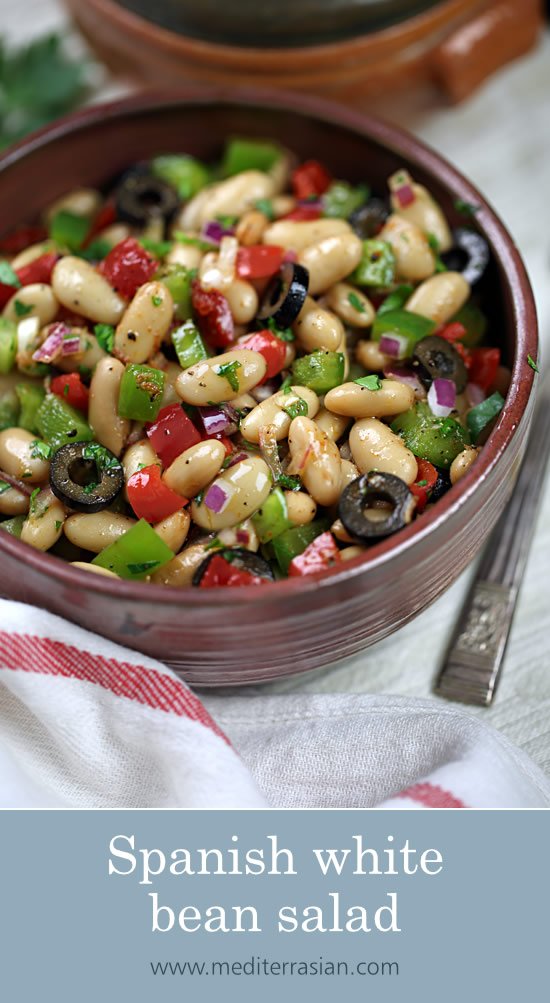 We enjoyed this hearty Spanish salad served as a topping for pan-grilled sourdough bread (that we'd lightly brushed with extra virgin olive oil before cooking).
It was packed with flavor, and we're already planning to make it again to serve with some grilled tuna steaks and Patatas Bravas (crispy potato pieces served with a spicy Spanish tomato sauce.)
Spanish white bean salad
Serves 4
A rustic, flavorful salad with white beans, sweet roasted red pepper, crisp green pepper and sliced black olives coated in a Spanish herb and garlic vinaigrette.
3 tablespoons extra virgin olive oil
1½ tablespoons red wine vinegar
½ teaspoon smoked paprika (or regular paprika)
¼ teaspoon salt
¼ teaspoon freshly ground black pepper
1 garlic clove — minced
1½ tablespoons finely chopped fresh flat-leaf parsley
3 tablespoons finely diced red onion
14 oz (400g) can of cannellini beans — rinsed and drained
½ cup jarred roasted red peppers — diced
½ green pepper — diced
10 pitted black olives — cut into thin rounds
PLACE the olive oil, vinegar, paprika, salt, pepper, garlic and parsley in a jar with a screw-top lid and shake to combine. PLACE the remaining ingredients in a salad bowl. POUR the dressing over the salad ingredients and toss gently until well combined.