SOUPS
Thai-spiced sweet potato and cashew soup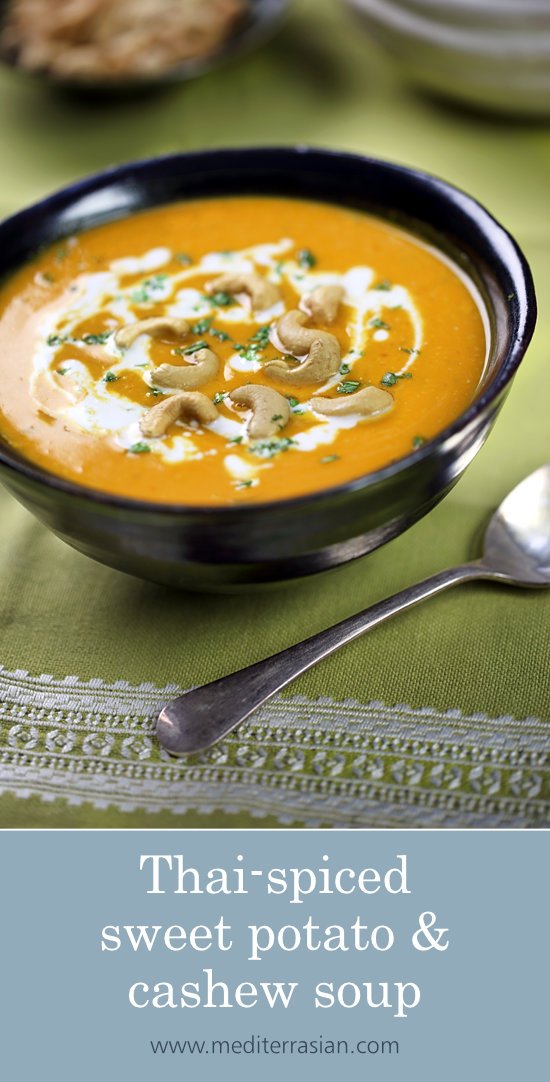 Hope the new year is treating you well. We're looking forward to a fresh new start this year after a very difficult end to 2018. Trudy's mum, Gwen, unexpectedly feel ill and sadly passed away less than a month before Christmas. So, as you might expect, we haven't been feeling super inspired to experiment in the kitchen lately. Hence the lack of new recipes.
But if there's one thing we've learned from this experience it's how precious life is. And for us, food is a big part of what makes life so precious. So in 2019 we're looking forward to experimenting more than ever in kitchen. And of course sharing the results with you. (The good ones at least!)
As you'll no doubt appreciate, we've been craving comfort foods lately. And we found that this Thai soup provided more than its share of comfort. It's warming, smooth and creamy, and delicately spiced. And the sweet potato not only adds wonderful color, flavor and texture to this soup, it also provides a healthy dose of beta carotene and fiber.
Thai-spiced sweet potato and cashew soup
Serves 4
A smooth, creamy and delicately spiced Thai soup rich in beta carotene and fiber.
1 tablespoon peanut oil
2 scallions (spring onions) — roughly chopped
3 cloves garlic — chopped
1½ tablespoons Thai red curry paste
28 oz (800g) sweet potatoes — peeled and cut into cubes
5 cups chicken or vegetable stock
1 cup coconut milk, plus 4 tablespoons for garnish
½ cup roasted unsalted cashews, plus extra for garnish
3 tablespoons fish sauce
2 teaspoons brown sugar
1 tablespoon lemon juice
1 tablespoon finely chopped cilantro (fresh coriander), for garnish
HEAT the oil in a large saucepan over a medium heat. ADD the scallions and cook, stirring occasionally, for 2 minutes. ADD the garlic and curry paste and cook, stirring constantly, for 1 minute. ADD the sweet potato, stock, coconut milk, cashews, fish sauce and brown sugar, stir to combine, and bring to a boil. REDUCE the heat to medium and simmer, covered, for 15 minutes. REMOVE from the heat and allow to cook a little. PUREE the soup in two batches in a blender or food processor until smooth. RETURN to the saucepan to reheat and stir in the lemon juice. SERVE in bowls with a swirl of extra coconut milk, and garnish with cilantro and reserved cashews.