SALADS
Mediterranean tuna and white bean salad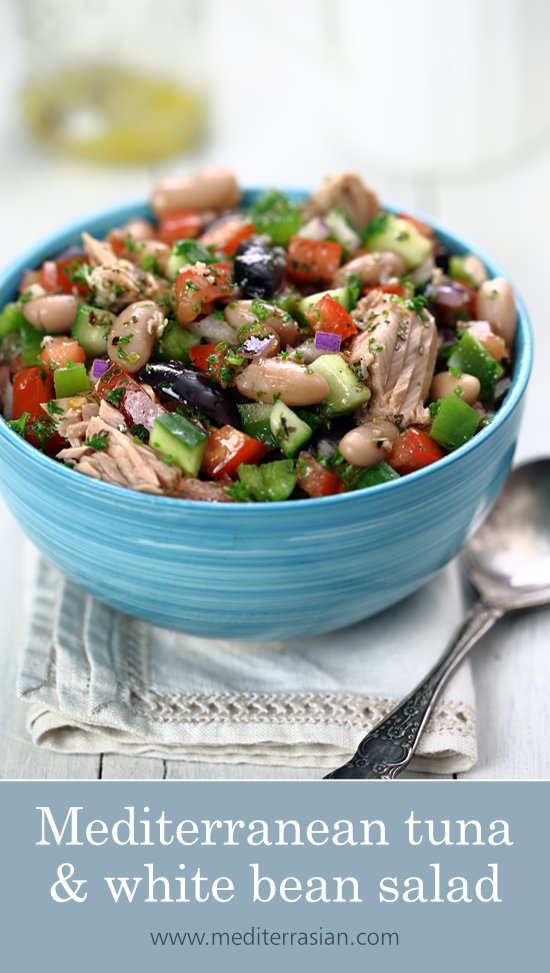 We love beans and add them to all sorts of dishes like soups, stews, pastas, risottos, and salads like this one. In this salad we toss white beans and tuna — a classic Italian combination — with all the ingredients that you'd normally find in a traditional Greek salad, including cucumber, tomatoes, green pepper, red onion and Kalamata olives. The dressing, too, is redolent of a Greek salad with olive oil, garlic, lemon juice and oregano. The end result is a delicious, rustic salad with fresh flavors and wonderful textures that encapsulates the essence of Mediterranean cuisine.
You can use any kind of white bean in this salad including cannellini or navy beans. We mostly use canned beans for convenience, but once in a while we'll boil up a batch of dried beans, divide them into portions, and freeze. They're ready to be defrosted overnight in the fridge, or microwaved for a couple of minutes.
Mediterranean tuna and white bean salad
Serves 4
A fresh, protein-packed salad with chunks of tuna, white beans, tomatoes, cucumber, green pepper, red onion and black olives.
4 tablespoons extra virgin olive oil
1 tablespoon lemon juice
1 garlic clove — minced
½ teaspoon dried oregano
½ teaspoon salt
½ teaspoon freshly ground black pepper
14 oz (400g) canned white beans — rinsed and drained
6 oz (170g) canned tuna in olive oil — drained and broken into chunks
2 tomatoes — diced
½ cup deseeded and diced cucumber
½ green or red pepper — deseeded and diced
¼ red onion — finely diced
8 Kalamata olives — quartered
2 tablespoons finely chopped fresh parsley
PLACE the olive oil, lemon juice, garlic, oregano, salt and pepper in a jar with a screw-top lid and shake to combine. PLACE the remaining ingredients in a large bowl. POUR the dressing over the salad ingredients and toss gently until well combined.

Variations: Use jarred roasted red pepper instead of fresh. For a touch of luxury, replace the canned tuna with grilled fresh tuna cut into cubes.