SIDE DISHES
Aloo gobi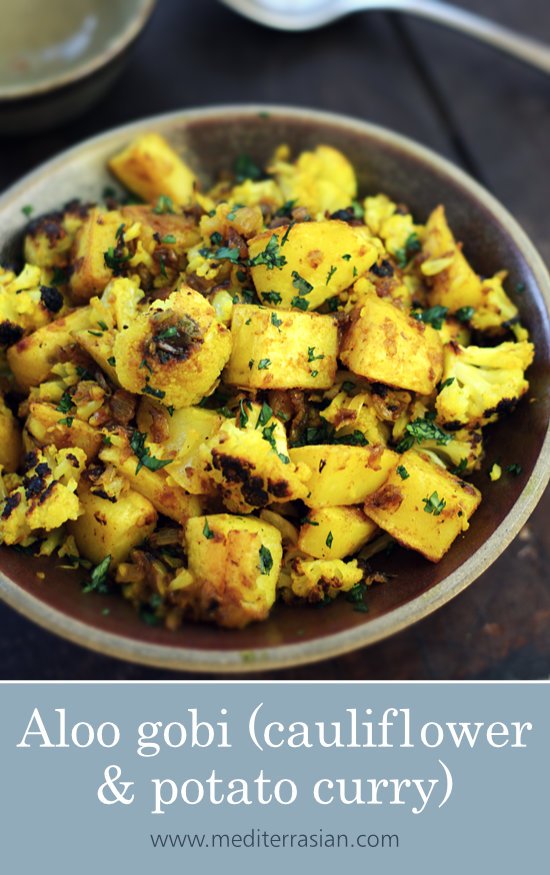 Aloo gobi is a dry curry from the Punjab region which stretches from northwest India to central Pakistan. It's a very simple and satisfying dish, consisting mostly of potatoes (aloo), cauliflower (gobi) and spices. It's usually cooked on a stove-top, but we enjoy the taste of this dish even more when the potatoes and cauliflower are roasted because it improves their texture and intensifies their flavor.
Aloo gobi makes a great side dish, and goes particularly well when it's served alongside dhal (lentil curry). It can also become the main meal itself by serving it with Indian breads (such as naan) a dollop of raiti (cucumber yogurt sauce) and a spoonful or two of Indian-style chutney or pickles. And it makes a wonderful salad when it's served cold.
We've also found that adding green peas to aloo gobi works really well, with the added benefit that the peas are a good source of protein and fiber. And a handful of raisins that have been soaked in boiling water for five minutes to plump them up also makes a tasty addition.
Aloo gobi
Serves 4
A simple and satisfying dry curry that combines potato and cauliflower with onions, garlic, ginger and fragrant spices.
5 tablespoons peanut or canola oil
1 tablespoon butter
4 potatoes (floury varieties such as Russet or Idaho) — peeled and cut into bite-size pieces
1 cauliflower — cut into florets
2 onions — finely chopped
2 tablespoons finely grated fresh ginger
4 garlic cloves — finely chopped
4 teaspoons ground cumin
4 teaspoons ground turmeric
2 teaspoons salt
4 tablespoons water
2 tablespoons finely chopped cilantro (fresh coriander)

TOSS the potato and cauliflower with 4 tablespoons of the oil in a large bowl, then place in a single layer in a large baking dish. PREHEAT the oven to 450°F/230°C and cook for 30 minutes, tossing halfway through. WHILE the potatoes and cauliflower are cooking, heat the remaining tablespoon of oil with the butter over a medium heat in a large frying pan. COOK the onions for 10 minutes, stirring occasionally, then add the ginger and garlic and cook for 2 minutes. ADD the cumin, turmeric and salt and cook a further minute, stirring continuously. ADD the water to the pan with the onion-spice mixture, stirring to combine. REMOVE the baked vegetables from the oven, add them to the pan and toss with the onion-spice mixture until well coated. SERVE the aloo gobi garnished with the chopped cilantro.