STIR-FRIES
Stir-fried beef in black bean sauce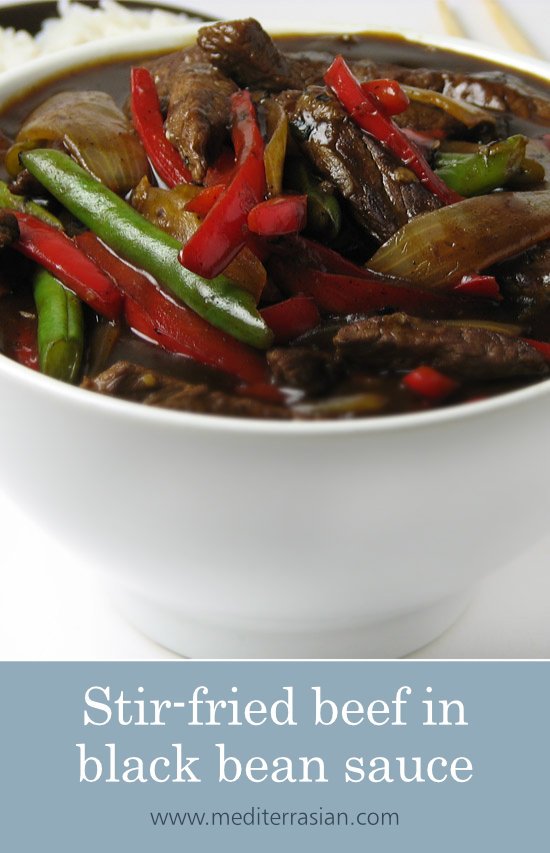 With just a few bottles of Chinese sauces on hand you can recreate a wide range of authentic dishes at home to satisfy your cravings for Chinese food, without much hassle and without resorting to takeout. Our top three Chinese sauces, apart from soy sauce, are oyster sauce, hoisin sauce and black bean sauce. We use them in all sorts of dishes including marinades, stir-fries, braises, grilled dishes, dipping sauces, and salad dressings.
A favorite takeout dish for many Westerners is beef in black bean sauce — a classic Chinese flavor combination. Black bean sauce has a strong, salty taste so a little goes a long way to pack lots of flavor into this stir-fry.
This dish is loaded with veggies so you don't actually need much meat to create a really hearty, healthy meal. But if you don't eat meat, you can just as easily replace the beef with tofu and/or mushrooms. Each adds a unique taste and texture that goes well with the black bean sauce. You can also make this stir-fry with other vegetables such as broccoli, green peppers, asparagus and scallions. And rather than serving with rice, try tossing soaked rice stick noodles into the wok towards the end of stir-frying.
Stir-fried beef in black bean sauce
serves 2
Tender beef strips and vegetables in a rich black bean sauce. Stir-frying is a great way to make a little red meat stretch a long way.
1 cup long-grain rice
3 tablespoons black bean sauce
2 tablespoons soy sauce
1 tablespoon Chinese rice wine (or dry sherry)
2 teaspoons brown sugar
½ teaspoon black pepper
2 tablespoons canola or peanut oil
12 oz (340 g) lean beef — cut into thin strips
12 green beans — ends trimmed and cut in ½ on the diagonal
1 red pepper — cut into thin strips
1 onion — cut into 8 wedges and separated into pieces
3 cloves garlic — minced (crushed)
2 teaspoons finely grated ginger
1½ cups beef stock
1½ tablespoons cornstarch mixed to a paste with 1½ tablespoons water
COOK the rice. MIX together the black bean and soy sauces, Chinese rice wine, sugar and pepper in a bowl. HEAT a wok or large frying pan over a high heat, add 1 tablespoon of the oil and stir-fry the beef for 5 minutes. REMOVE the beef from the wok and set aside on a plate. HEAT the remaining oil in the wok and stir-fry the greens beans, red pepper and onion for 7 minutes. ADD the garlic and ginger and stir-fry for another minute, then return the beef to the wok. ADD the sauce mixture and stock, then add the cornstarch paste and cook, stirring continuously, until thickened. SERVE on a bed of rice.

Variation: This black bean sauce also goes well with chicken, lean pork, squid, shrimp or bite-sized pieces of firm white fish.