STIR-FRIES
Cashew chicken stir-fry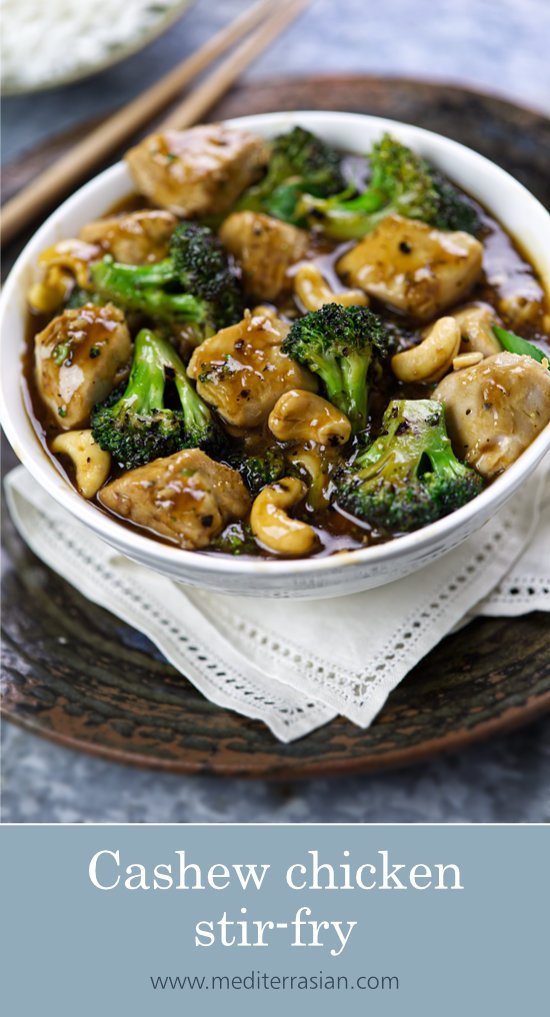 During weeknights, when we can't be bothered doing much cooking, we usually turn to quick Mediterranean and Asian meals that can be prepared and cooked in around 20 minutes. Simple pasta dishes (often using ingredients straight out of a can or jar, and with the vegetables cooked in the same boiling water as the pasta), and simple stir-fries are our favorite no-fuss options.
This Cashew Chicken Stir-Fry is a great example of a simple, quick-to-make meal that also happens to be delicious and very nourishing.
Chicken is a great source of lean protein, the cashews are rich in good fats that reduce the risk of heart disease, and broccoli is a real nutrition powerhouse. It's rich in vitamins and minerals, including potassium, folate, calcium and vitamin C (which also acts as a powerful cell-protecting antioxidant). Broccoli also contains plenty of dietary fiber as well as two particularly health-giving phytochemicals — sulforaphane and indol-3-carbinol. Scientific research has found that sulforaphane guards against cancer by stimulating the production of protective enzymes that detoxify carcinogens (cancer causing compounds). Indol-3-carbinol has been found to reduce breast cancer risk by preventing estrogen overproduction. A Harvard study even found that a high intake of broccoli reduced bladder cancer risk in men.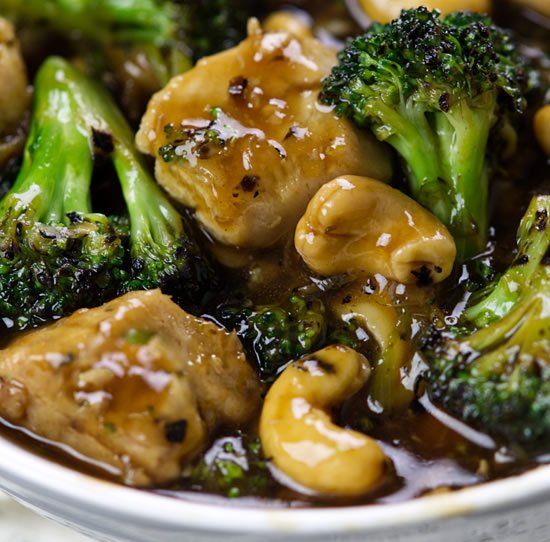 Stir-frying broccoli is also one of the tastiest ways to enjoy it. When broccoli is stir-fried it softens and gets a slightly nutty flavor, which works beautifully with the plump cashews.
Cashew chicken stir-fry
serves 2
This simple stir-fry is packed with flavor and nutrients and takes only around 20 minutes to make.
2 tablespoons soy sauce
2 tablespoons oyster sauce
2 teaspoons toasted sesame oil
1 cup chicken or vegetable stock
1 tablespoon cornstarch (cornflour)
3 tablespoons peanut or canola oil
12 oz (340g) uncooked skinless chicken breast — cut into bite-size pieces
1 head broccoli — cut into florets
2 cloves garlic — finely chopped
2 teaspoons finely grated fresh ginger
1 scallion — finely sliced
½ cup roasted cashews
Cooked rice — to serve
MIX together the soy sauce, oyster sauce, sesame oil and stock in a small bowl. MIX the cornstarch to a paste with 1 tablespoon of water in another small bowl. HEAT a wok or large frying pan over a high heat, add 1 tablespoon of the oil and stir-fry the chicken for 3 minutes. REMOVE the chicken from the wok and set aside on a plate. HEAT the remaining oil in the wok and stir-fry the broccoli for 5 minutes. ADD the ginger and garlic and stir-fry for 1 minute. RETURN the cooked chicken to the wok along with the cashews and scallion. ADD the stock mixture, then add the cornstarch paste and cook, stirring continuously, until thickened. SERVE with rice.

Variations: Replace the chicken with shrimp, scallops or tofu (cut into cubes). Use red pepper (cut into thin strips) instead of the broccoli.