SANDWICHES & PIZZA
Chicken souvlaki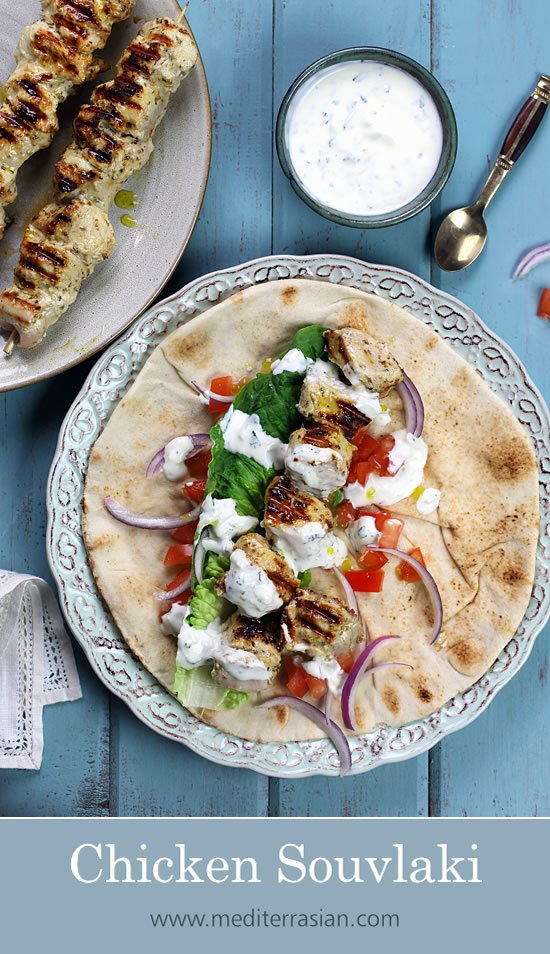 One of the tastiest Greek street foods is chicken souvlaki — succulent grilled, marinated pieces of chicken served in a warm flatbread with crisp salad vegetables and creamy tzatziki (yogurt and cucumber sauce).
You can also simply leave the meat on the skewer and serve them like Middle Eastern shish kebabs, but we much prefer enjoying them with all the fixings.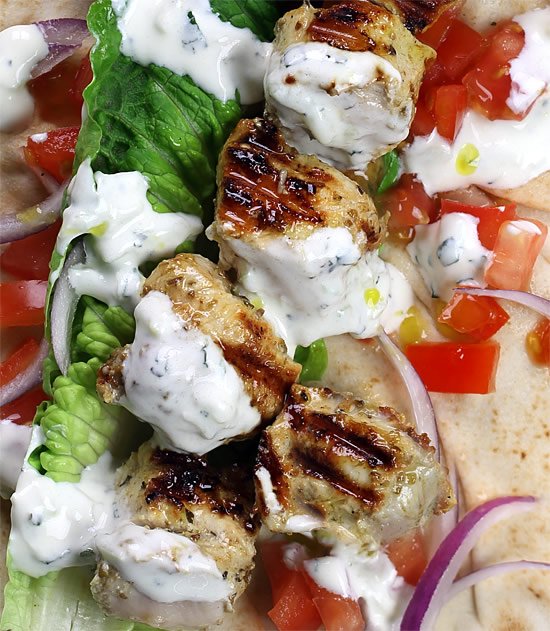 We've found there are three main elements that ensure you'll get the most mouthwatering chicken souvlaki. Firstly, make sure you marinate the chicken thoroughly so all the wonderful marinade flavors sink in to the chicken pieces. Secondly, make sure to use the highest quality store bought tzatziki you can find — or better still, make your own (here's our recipe). And finally, make sure you warm or very lightly toast the flatbread (preferably pocketless pita bread) before constructing the souvlaki.
If you're not a big fan of chicken, we've also made this same recipe with cubed fresh tuna and it was equally mouthwatering. And you can even make a meat-free version using cubed tempeh (fermented soybean cakes) if you're vegan or vegetarian.
Chicken souvlaki
serves 2
Succulent grilled, marinated pieces of chicken served in a warm flatbread with crisp salad vegetables and creamy tzatziki (Greek yogurt and cucumber sauce).
3 tablespoons extra virgin olive oil
1 tablespoon lemon juice
1 clove garlic — minced
½ teaspoon dried oregano
½ teaspoon cumin
¼ teaspoon salt
¼ teaspoon freshly cracked black pepper
2 wooden skewers (soaked in water to prevent burning)
12 oz (340g) skinless chicken breast — cut into bite-size pieces
2 flatbreads, such as pocketless pita
¼ cup tzatziki (store-bought or
homemade
)
A few thin slices of red onion
2 Romaine (cos) lettuce leaves
1 tomato — diced
PLACE the extra virgin olive oil, lemon juice, garlic, oregano, cumin, salt and pepper to a screw top jar and shake to combine. PLACE the chicken to a bowl, pour over the marinade, and mix to combine. MARINATE, covered, in the refrigerator for at least 30 minutes (or overnight). THREAD the chicken pieces tightly onto each skewer. COOK the skewers on a hot grill or grill pan for 6 minutes, turning once and brushing regularly with the marinade. WHILE the chicken is cooking, warm the flatbreads in the oven, or very lightly toast under the oven broiler. REMOVE the cooked chicken from the skewers and place on the flatbreads with the lettuce, tomato and red onion slices. DRIZZLE with the tzatziki, wrap, and serve.

Variation: Use cubes of fresh tuna instead of chicken and cook for 4 minutes instead of 6 minutes.