SALADS
Crunchy Thai salad with creamy cashew-lime dressing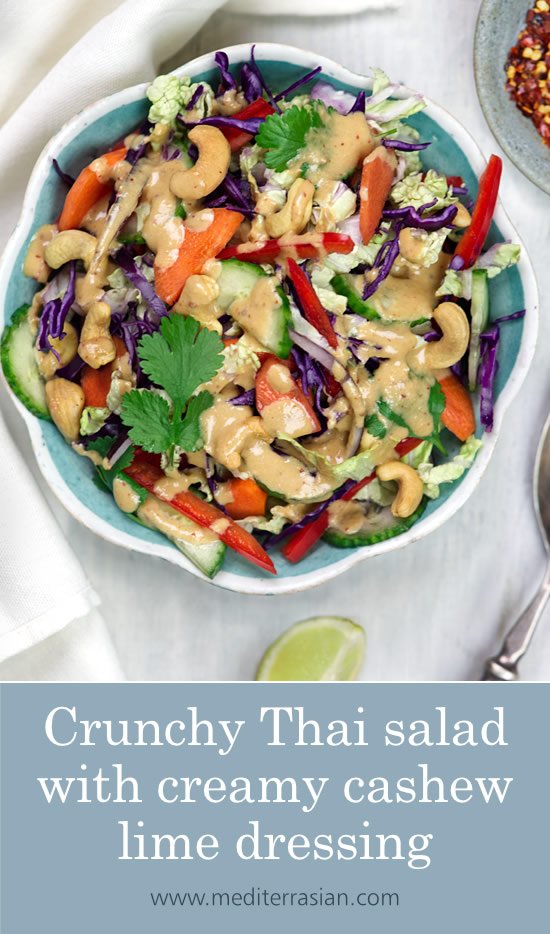 We've been ramping up our salad intake lately. And I'm not talking about salads that comprise of not much more than tomato and lettuce (it's those bland and boring types of salads that put me off the whole idea of 'salad' when I was a kid). I'm talking about vibrantly-colored, hearty salads packed with flavor and texture. A quick browse of the salad section of our website should give you a good idea about what I mean.
This Thai salad most certainly fits into that category. It's colorful, crunchy and creamy — and instead of being pushed off to the side of the plate, like salads often are, it can easily take center stage.
The highlight of this salad for us is the creamy cashew-lime dressing. It's so yummy you could eat it by itself with a spoon and be quite happy! But when it's drizzled over this salad, it takes it to the next level.
Crunchy Thai salad with creamy cashew-lime dressing
Serves 4
A vibrant Thai salad loaded with crunchy vegetables including red cabbage, cucumber, red pepper and carrot combined with roasted cashews and drizzled with a creamy cashew-lime dressing.
⅓ cup coconut milk
1 tablespoon lime juice
1 tablespoon soy sauce
1 tablespoon fish sauce
1 clove garlic — roughly chopped
¼ teaspoon red chili flakes
1 teaspoon brown sugar
⅔ cup roasted cashews
2 cups finely shredded green cabbage
2 cups finely shredded red cabbage
1 red pepper — cut into thin strips
1 carrot — cut in half lengthways and thinly sliced into half-moons
1 scallion — thinly sliced
½ cup thinly sliced cucumber — cut into half-moons
A handful of cilantro (fresh coriander) leaves

Place the coconut milk, lime juice, soy sauce, fish sauce, garlic, chili flakes, brown sugar and half the cashews (⅓ cup) in a food processor or blender. PROCESS until smooth. ADD all the other ingredients to a large salad bowl and mix to combine. DRIZZLE the cashew-lime dressing over the salad and serve.