SOUPS
Curried butternut squash and red lentil soup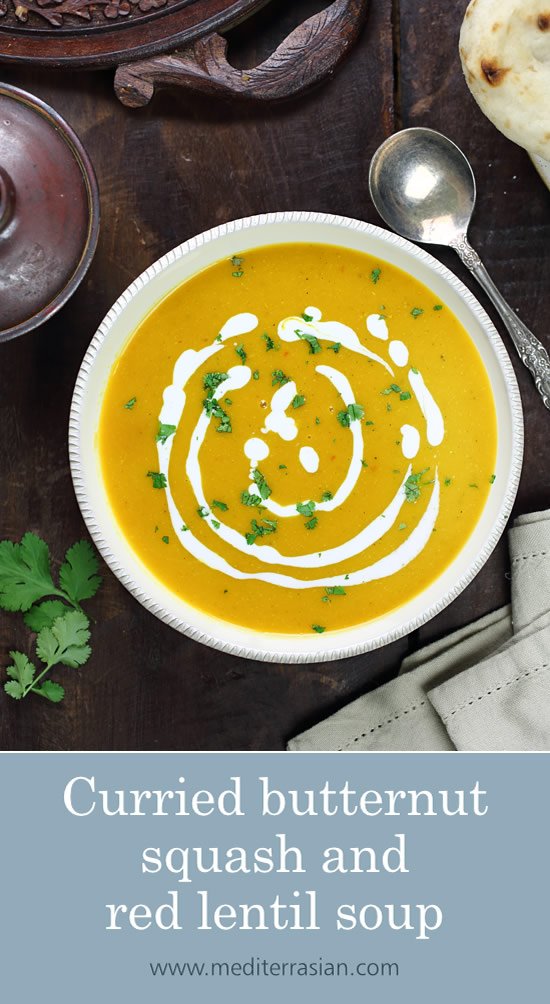 Comfort food doesn't have to equate to fattening food. This luscious and nourishing curried butternut squash and red lentil soup is a perfect example. A warming bowl of this soup, in our opinion, is among the most comforting things you can eat. Yet at the same time it's packed with nourishment and goodness and not a lot of calories.
In fact this soup is just the sort of comfort food you want to be consuming because butternut squash is a particularly rich source of beta carotene, which helps promote a healthy immune system.
Curried butternut squash and red lentil soup
Serves 4
A luscious and nourishing soup with pureed butternut squash and red lentils accented with fresh ginger and a subtle blend of Indian spices. To make this into a complete meal in its own right, serve with warm naan bread for dipping.
2 tablespoons peanut or canola oil
1 onion — finely chopped
2 cloves garlic — finely chopped
2 teaspoons finely grated fresh ginger
2 teaspoons ground cumin
1 teaspoon ground turmeric
1 teaspoon garam masala
½ teaspoon dried chili flakes
2 lbs (1kg) butternut squash — peeled and cut into cubes
½ cup red lentils
1 cup coconut milk, plus extra for drizzling
5 cups vegetable or chicken stock
2 teaspoons salt
1 tablespoon lemon juice
1 tablespoon finely chopped cilantro (fresh coriander)

HEAT the oil in a large saucepan over a medium heat. ADD the onion and cook for 6 minutes, stirring occasionally. ADD the garlic, ginger, cumin, turmeric, garam masala and chili flakes and cook for 1 minute, stirring constantly. ADD the butternut squash, lentils, stock, coconut milk and salt and bring to a boil. REDUCE the heat to medium and simmer, covered, for 20 minutes. STIR in the lemon juice then remove the soup from the heat and allow to cool a little. PUREE the soup in batches in a blender or food processor until smooth. RETURN to the saucepan to heat through. SERVE in bowls drizzled with a little coconut milk and garnished with the chopped cilantro.