STIR-FRIES
Fragrant shrimp and vegetable stir-fry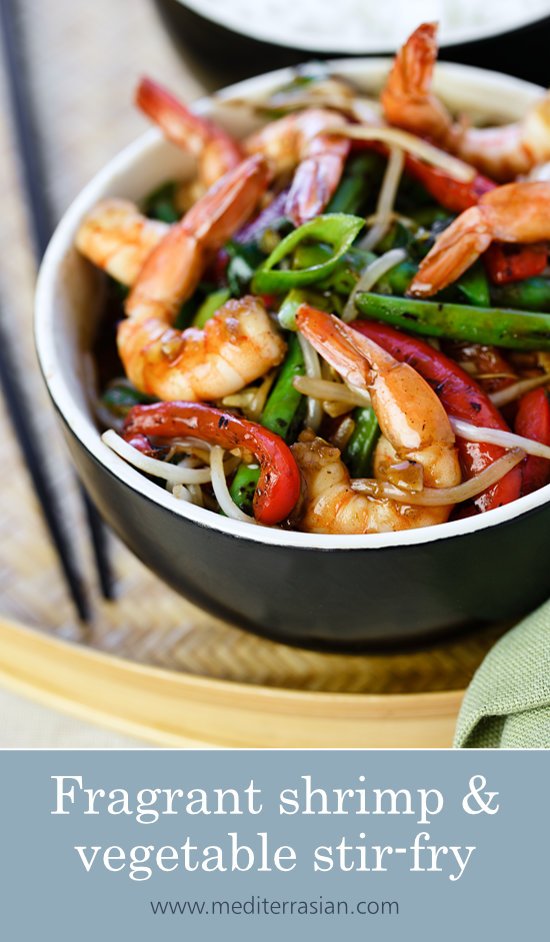 Stir frying is one of our favorite cooking techniques because it not only brings out the flavor, texture, and color of food, it also does a great job of preserving nutrients. And it also happens to be one of the quickest ways to cook food (in fact the whole cooking process for this stir-fry took barely 7 minutes). But there are certain secrets to a perfectly cooked stir-fry.
Because it's such a quick cooking process, you'll need to have all the ingredients chopped and the seasonings set out in front of you before you start cooking. You also need to make sure your wok or skillet is nice and hot before adding the oil. A good way to test this is by adding a drop of water to the wok, and it should sizzle and dissolve immediately. After adding the oil, distribute it by tipping the wok from side to side so it evenly coats the bottom.
For the best stir-fry results make sure to add the vegetables in order of their texture. "Hard" vegetables like broccoli and carrots take longer to cook, for example, than "soft" vegetables like Asian greens and mushrooms. If you're using chicken or seafood, to avoid it overcooking and going tough, it's best to quickly stir-fry these foods first until just cooked, then remove them from the wok and set them aside while you continue to cook the remaining ingredients. Then simply return them back to the wok at the end of the cooking process to heat through.
This stir-fry includes succulent shrimp and tender vegetables that are combined with an aromatic Chinese sauce. The key ingredient that makes the sauce so delicious and fragrant is Chinese five-spice powder, which is a blend of ground cinnamon, cloves, star anise, Sichuan pepper and fennel. It adds a wonderful complexity to this stir-fry, but you only need a little or else it overpowers the other flavors of the dish.
As with all good recipes, this one is very versatile and lends itself to endless experimentation. Instead of shrimp, try chicken, squid, scallops or cubed tofu. Replace the vegetables with broccoli, carrots, mushrooms, cabbage, snow peas, or wedges of onion. Or serve the stir-fry on a bed of noodles instead of rice.
Fragrant shrimp and vegetable stir-fry
serves 2
Stir-fried shrimp and tender vegetables combined with a rich and aromatic Chinese sauce.
3 tablespoons oyster sauce
2 tablespoons soy sauce
2 tablespoons water
1 teaspoon sesame oil
½ teaspoon five-spice powder
2 teaspoons brown sugar
2 tablespoons peanut oil
16 green beans — ends trimmed, and cut in half
1 red pepper — deseeded and cut into thin strips
2 scallions — thinly sliced on diagonal
2 cups bean sprouts
2 cloves garlic — finely chopped
16 large cooked peeled shrimp
Cooked rice, to serve
MIX together the oyster sauce, soy sauce, water, sesame oil, five-spice powder and sugar in a small bowl. HEAT a wok or large skillet over a high heat, add the oil and stir-fry the green beans and red pepper for 4 minutes. ADD the garlic and stir-fry for a minute. ADD the scallions, bean sprouts and cooked shrimp and stir-fry for a minute. ADD the sauce mixture and cook for 1 minute to heat through and combine thoroughly. SERVE with rice.

Variations: Use chicken, squid, scallops or cubed firm tofu in place of shrimp. Serve with noodles instead of rice.