STIR-FRIES
Shrimp, kale and cashew stir-fry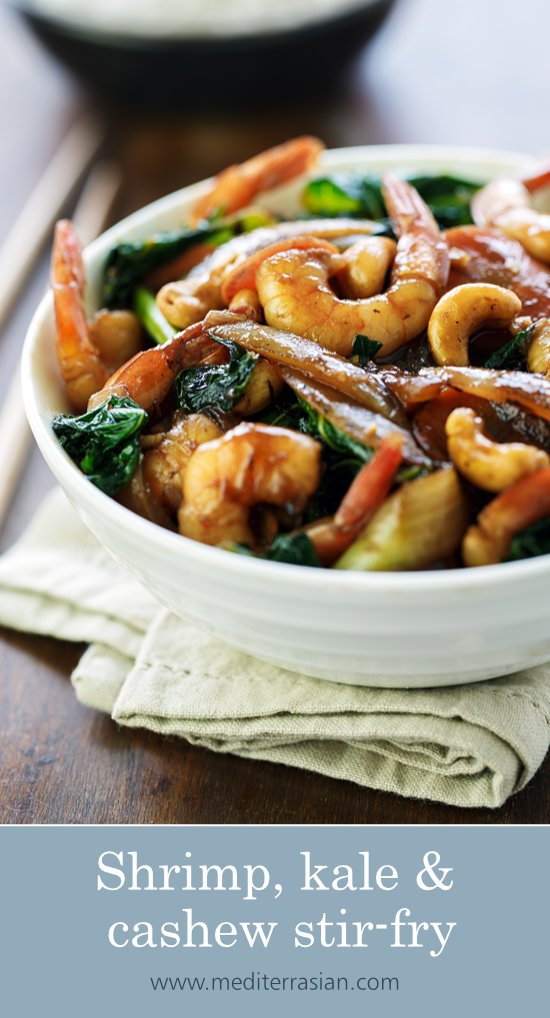 Kale has been getting a lot of press lately for being one of the healthiest foods known to science. It's not only a rich source of dietary fiber and antioxidant vitamins A, C, and K, it also contains a number of disease-fighting phytochemicals (plant chemicals).
One of the main health-giving components of kale is a phytochemical called sulforaphane, which guards against cancer by stimulating the production of protective enzymes that detoxify carcinogens.
Boiling kale can significantly reduce levels of sulforaphane, but research has shown that steaming or stir-frying kale doesn't result in significant loss. So if you want to get the most out of kale, either eat it raw in salads, steamed, or as we've done here — stir-fried.
Even though kale originates from Europe, it's a member of the cruciferous family of vegetables which includes cabbage, broccoli cauliflower and bok choy — all of which are used extensively in traditional Asian cooking. So kale, with its robust, slightly cabbagy flavor works perfectly in Asian dishes like this Shrimp, Kale & Cashew Stir-Fry.
This quick and easy stir-fry goes perfectly with rice, or you could add some precooked noodles to the wok at the end of stir-frying and toss to combine and heat through.
Shrimp, kale and cashew stir-fry
serves 2
The distinctive taste and texture of kale enhances the subtle flavor of the shrimp and adds an appetizing color contrast to this simple Chinese stir-fry. The cashews also go beautifully with kale and shrimp and provide extra texture and a rich buttery taste.
3 tablespoons Chinese soy sauce
2 tablespoons hoisin sauce
2 tablespoons water
1 teaspoon sesame oil
3 tablespoons peanut or canola oil
16 large uncooked shrimp (prawns) — peeled
1 carrot — thinly sliced
1 onion — cut into thin wedges and separated into pieces
4 cups chopped kale — stems removed
2 cloves garlic — finely chopped
½ cup roasted unsalted cashews
Rice or noodles, to serve
MIX together the soy sauce, hoisin sauce, water and sesame oil in a small bowl. HEAT a wok or large frying pan over a high heat, add 1 tablespoon of oil and stir-fry the shrimp for 2 minutes. REMOVE the shrimp from the wok and set aside on a plate. HEAT the remaining 2 tablespoons of oil in the wok and stir-fry the onion and carrot for 2 minutes. ADD the kale and stir-fry for 2 minutes. ADD the garlic and stir-fry for a minute, then return the shrimp to the wok with the cashews. ADD the sauce mixture and mix to heat through. SERVE with rice or noodles.