RICE & GRAIN DISHES
Indian fried rice with shrimp and cashews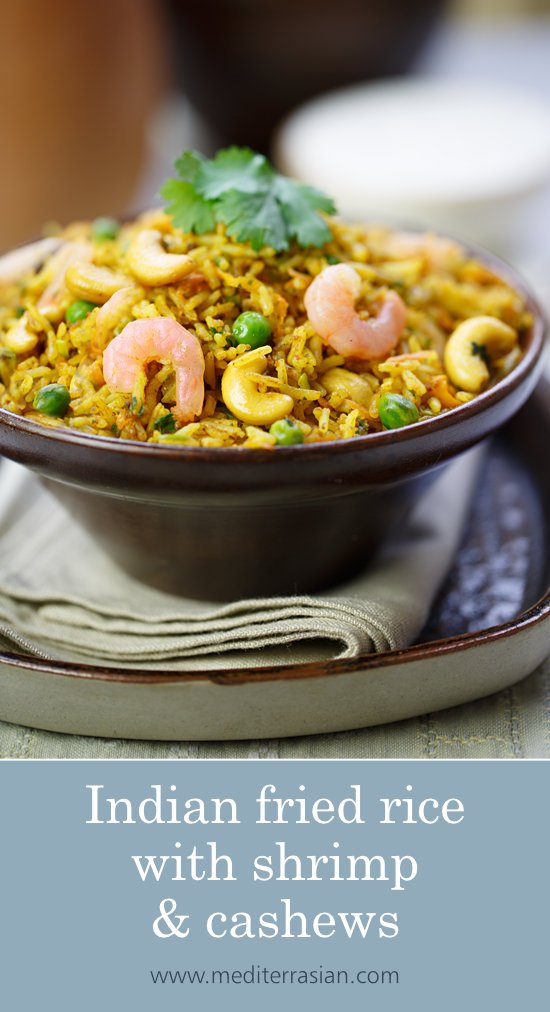 Although a lot of people think of fried rice as a classic Chinese dish, there are countless versions throughout Asia including Nasi goreng (Indonesian fried rice), Khao phat (Thai fried rice), and Com chien (Vietnamese fried rice). India also has their own version of fried rice called Vagharela bhaat, from the Gujarat region of Western India. It cleverly combines leftover rice with a few simple ingredients and some flavorful herbs and spices to make a delicious and nutritious meal.
Like a lot of traditional dishes it was born out of necessity and scarcity. It resulted, in part, from a need to use up day-old rice in the days before refrigeration, so as not to let any food go to waste. And stir-frying the ingredients quickly over a high heat — a healthy and energy-efficient cooking method used for thousands of years throughout Asia — came about as a way to retain nutrients and conserve fuel.
We make our version of Indian fried rice with baby shrimp, which are already peeled and cooked so they're really convenient, as well as being a good source of protein. We like to add a handful of cashews and peas for extra taste, texture, and protein. The basmati rice also offers a bit of protein, and brings a unique flavor, aroma and fluffy texture to the dish. You can replace the shrimp with shredded precooked chicken breast, canned salmon, cooked egg, or any other protein you like.
This Indian fried rice always goes down a treat at our place. So much so that we specially cook extra rice so that we can make this for dinner the next night. You can eat this as is, or serve with plain yogurt, chutney or pickles on the side.
Indian fried rice with shrimp and cashews
serves 2
Fragrant fried rice with baby shrimp, plump cashews, peas and basmati rice.
3 teaspoons curry powder
1 tablespoon soy sauce
1 tablespoon water
½ teaspoon salt
1 tablespoon peanut or canola oil
1 carrot — grated
1 scallion — thinly sliced
2 cloves garlic — finely chopped
2 cups cold cooked basmati rice
1 tablespoon butter
⅓ cup frozen peas — defrosted
5 oz (140g) frozen baby shrimp — defrosted
½ cup roasted cashews
2 tablespoons finely chopped cilantro (fresh coriander)
1 tablespoon lemon juice
HEAT a wok or large frying pan over a high heat. MIX together the curry powder, soy sauce, water, and salt in a small bowl. ADD the oil to the wok and stir-fry the carrot, scallion and garlic for 1 minute. ADD the rice, butter, peas and sauce mixture and stir-fry for 2 minutes. ADD the shrimp, cashews, cilantro and lemon, toss to combine, then remove from the heat.