SALADS
Mediterranean chopped salad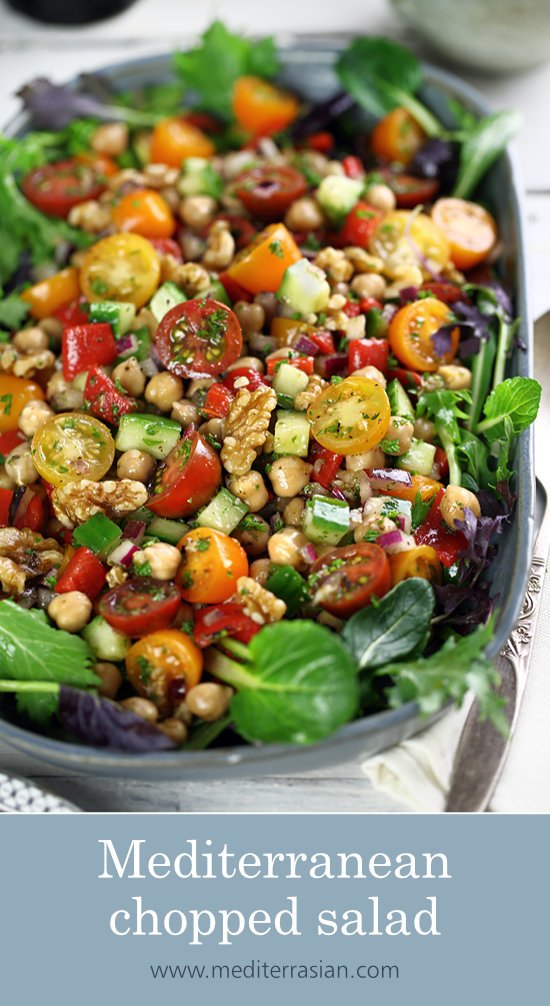 It's coming to the end of a chilly winter here in New Zealand, and as the sunshine hours begin to increase, so does our consumption of salads. We've been particularly craving hearty salads that can be eaten by themselves as a main meal. And this super tasty salad fits the bill perfectly because it's not only balanced and filling, it's also packed with nourishment.
The chickpeas provide slowly-releasing carbs as well as protein and plenty of fiber; the walnuts also contain protein and are a good source of healthy fats (including omega-3 fatty acids); the tomatoes are a great source of vitamins as well as of lycopene, an antioxidant that helps lower the risk of prostate and breast cancer. Then there are all the other colorful, tasty and nutrient-rich vegetables including roasted red peppers, cucumber, red onion, and crispy salad greens.
Not only can you enjoy this dish as a main meal or side salad, it also tastes great as a filling for a wrap or pita pocket.
Mediterranean chopped salad
Serves 4
A delicious medley of Mediterranean ingredients including chickpeas, cherry tomatoes, roasted red peppers, cucumber, red onion and walnuts coated in an oregano-infused red wine vinaigrette, and served on a bed of mixed salad leaves.
4 tablespoons extra virgin olive oil
1½ tablespoons red wine vinegar
1 clove garlic — minced
½ teaspoon salt
½ teaspoon freshly ground black pepper
½ teaspoon dried oregano
1 cup canned chickpeas
1 cup cherry tomatoes — halved
½ cup jarred roasted red peppers — diced
¼ red onion — finely diced
½ cup diced cucumber
½ cup roughly chopped walnuts
2 tablespoons finely chopped flat-leaf parsley
2 cups mixed salad leaves
PLACE the olive oil, red wine vinegar, garlic, salt, pepper and oregano in a small jar with a screw-top lid and shake to combine. PLACE all the salad ingredients, except the mixed salad leaves, in a large bowl. POUR the dressing over the top and toss gently to combine. ARRANGE the salad leaves evenly on a large serving platter. TOP with the dressed salad just before serving.