SAUCES & DIPS
Mushroom and artichoke pâté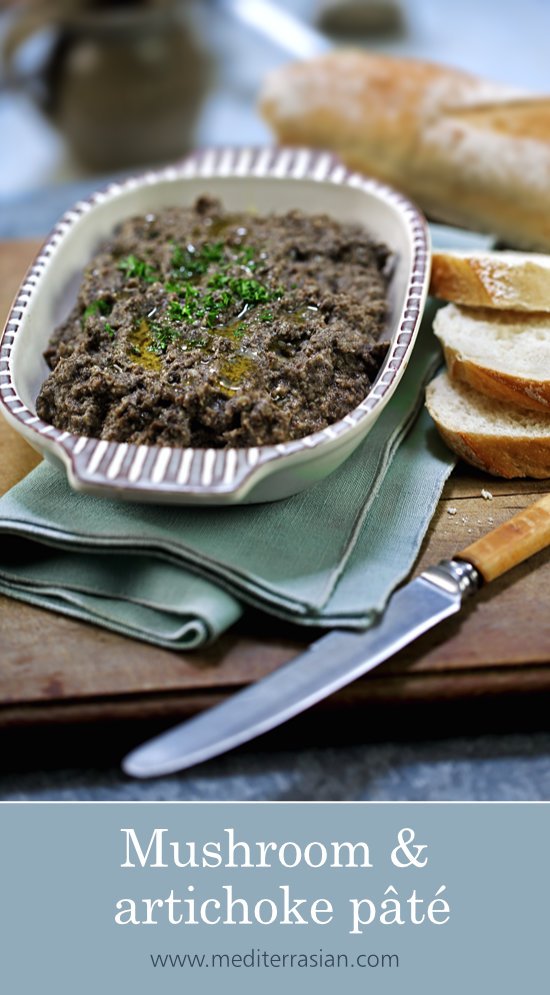 This pâté is seriously addictive. So be warned, if you don't want to get hooked, stop reading now.
Since creating this recipe a couple of weeks ago we literally can't stop thinking about how we want to use it next. The first time we had it was on slices of crusty bread fresh out of the oven. The next time we had it was stirred into a very basic risotto recipe, which suddenly became a rich and flavorful mushroom and artichoke risotto. And the last time we had it was stirred into a basic cheese sauce which we combined with pasta to create a deliciously cheesy mushroom and artichoke pasta.
And we have plenty of other plans for this delicious and super versatile pâté. We're going to mix it with ricotta and a little Parmesan and use this mixture to make a mushroom, artichoke and ricotta lasagna. We're going to use it as a pizza sauce (just add some grated cheese and you've got a mushroom and artichoke pizza). And we're sure it would work beautifully stirred into an omelet, frittata or scrambled eggs — or served by itself on some lightly buttered whole grain toast.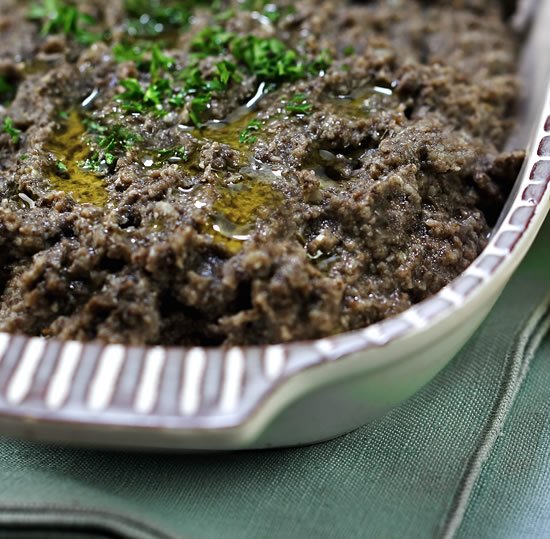 The great thing about this pâté — apart from the fact it adds such amazing depth of flavor to so many foods — is that it's packed with goodness. All the ingredients are nutrient-rich plant foods commonly eaten in a traditional Mediterranean diet: Mushrooms, shallots, garlic, thyme, artichokes and extra virgin olive oil.
It's certainly one of the easiest and tastiest ways to slip more veggies into your life :)
Mushroom and artichoke pâté
serves 4
Portobello mushrooms are sautéed in olive oil, garlic and thyme, then pureed with artichoke hearts to make this simple, delicious and versatile pâté.
9 oz (250g) portobello mushrooms — chopped
½ cup chopped canned artichoke hearts
2 shallots (or ½ red onion)
¼ cup white wine
2 garlic cloves — finely chopped
¼ teaspoon dried thyme
½ teaspoon salt
½ teaspoon freshly ground black pepper
3 tablespoons extra virgin olive oil

HEAT 2 tablespoons of the extra virgin olive oil over a medium heat. COOK the shallots for 5 minutes, stirring occasionally. ADD the garlic and cook for 30 seconds, then add the mushrooms, thyme, salt, pepper and white wine and cook for 5 minutes, stirring occasionally. STIR in the artichoke hearts and leave to cool for 5 minutes. ADD the mixture, plus the reserved tablespoon of olive oil, to a food processor or blender and process until smooth.