SAUCES & DIPS
Roasted pumpkin hummus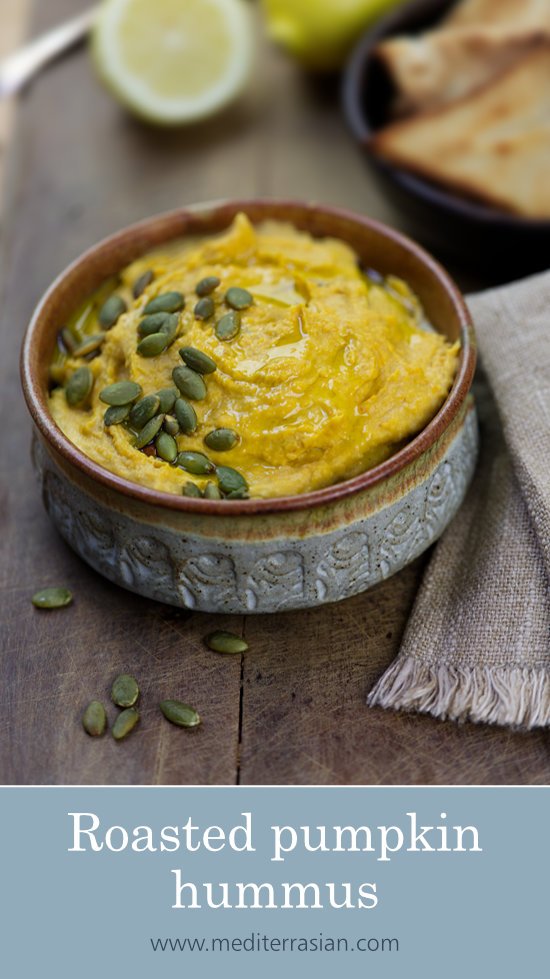 It's getting close to Halloween, and if you're planning a get together may we suggest adding some Mediterranean flair with this smooth and creamy roasted pumpkin hummus (which you can make with either pumpkin or winter squash).
We eat a lot of hummus in this house, but this is the first time we've made a roasted pumpkin version... and we were very pleased with the results! Roasted pumpkin has a wonderful depth of flavor, and the process of roasting also brings out the natural sweetness in the pumpkin. Roasted pumpkin also purees beautifully, so it's an ideal addition to hummus.
We enjoyed this roasted pumpkin hummus with toasted pita wedges, but we're sure it would also be delicious with crudités or slices of crusty bread. The next time we make it we plan on making extra so we can also enjoy it as a filling in a flatbread wrap with crispy salad veggies.
Roasted pumpkin hummus
Makes 2 cups
Smooth and creamy roasted pumpkin hummus with a hint of cumin.
2 cups peeled and cubed pumpkin or winter squash
1 tablespoon extra virgin olive oil
½ cup canned chickpeas
⅓ cup tahini (sesame seed paste)
¼ cup lemon juice
½ cup water
1 teaspoon salt
1 teaspoon ground cumin
2 cloves garlic — roughly chopped
Toasted pumpkin seeds for garnish (optional)

PREHEAT the oven to 450°F/230°C. TOSS the pumpkin in the olive oil until well coated. PLACE the pumpkin on a large baking tray and cook for 15 minutes, then toss, and cook for a further 10 minutes. LET the pumpkin cool for 10 minutes. PLACE the pumpkin and all the remaining ingredients in a food processor or blender and process until smooth, scraping the sides occasionally.