CURRIES & STEWS
Spanish braised chickpeas with tuna and olives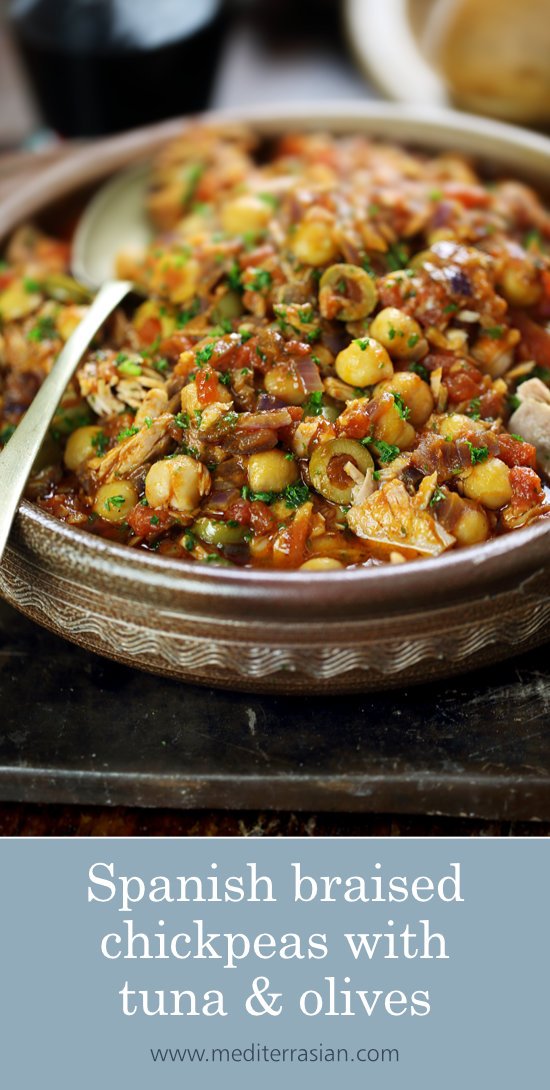 This simple and rustic Spanish recipe shows what a perfect match chickpeas and tuna are. Both ingredients have been eaten and enjoyed together throughout Spain for centuries. In this hearty dish they're combined in a smoky tomato sauce made with garlic and onion, with a healthy measure of extra virgin olive oil to add depth and texture. We also add robust ingredients commonly used in Spanish cooking, including sliced stuffed olives and red wine vinegar, to heighten but not overpower, the natural flavors of the other ingredients. The pairing of tuna and chickpeas isn't only flavorsome, it also makes a very filling and nourishing meal that's rich in both protein and fiber.
We love to serve this braise with crusty bread on the side to mop up every last bit of the luscious sauce, but you can also serve it with rice instead. And we've eaten this dish with crispy, golden pan-fried sliced potatoes, which is kind of like another classic Spanish recipe, Patatas Bravas. You could also use this mixture to stuff a baked potato, as a tasty empanada filling, or even served as a pasta sauce.
Spanish braised chickpeas with tuna and olives
serves 2
A rustic and flavorful Spanish dish of chickpeas cooked in a smoky tomato sauce, with canned tuna, and stuffed olives. Perfect served with crusty bread on the side to mop up every last bit of the luscious sauce.
4 tablespoons extra virgin olive oil
1 red onion — finely diced
3 cloves garlic — finely chopped
14 oz (400g) canned chopped tomatoes
1 tablespoon tomato paste
½ cup water
1 teaspoon red wine vinegar
½ teaspoon Spanish smoked paprika (or use 1 teaspoon regular paprika)
1 teaspoon salt
½ teaspoon freshly ground black pepper
14 oz (400g) can chickpeas — rinsed and drained
6 oz (170g) can tuna — drained and broken into chunks
10 pimento-stuffed olives — sliced into thin rounds
1 tablespoon finely chopped fresh flat-leaf parsley
HEAT 3 tablespoons of the oil in a frying pan over medium heat and cook the onion for 6 minutes, stirring occasionally. ADD the garlic and cook 2 minutes. ADD the tomatoes, tomato paste, water, vinegar, paprika, salt and pepper. INCREASE the heat to high and bring to a boil, then cover with a lid, reduce the heat and simmer for 10 minutes. ADD the chickpeas, stir to combine, cover and simmer for 10 minutes, stirring occasionally. STIR in the tuna, olives, parsley and reserved tablespoon of oil.

Variations: Instead of canned chickpeas use white beans, or add some chorizo (cooked with the onion) in place of canned tuna. Serve with rice or potatoes instead of crusty bread.