SANDWICHES & PIZZA
Cherry tomato and rosemary focaccia bread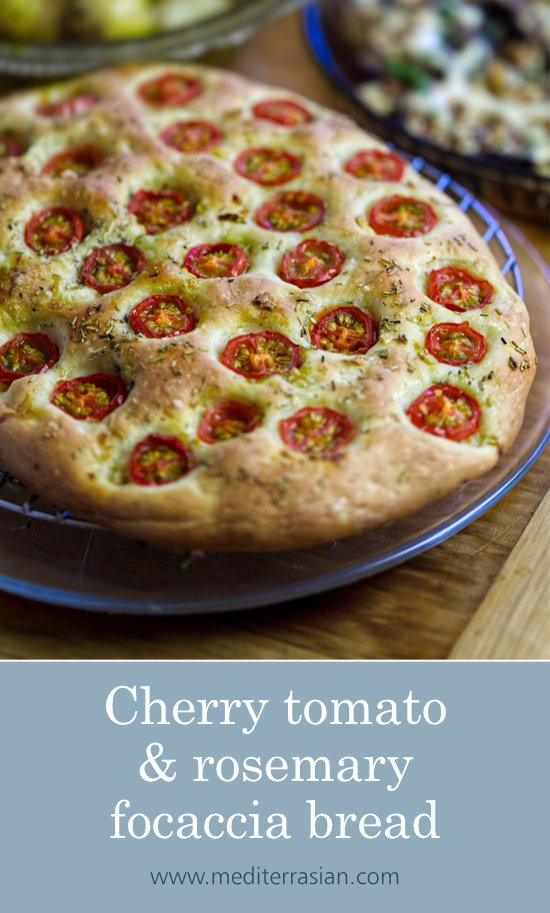 Many of us around the world are in lockdown right now, and some of us are no doubt struggling to stay sane. Ric and I have been coping with the isolation by spending more time together in the kitchen. We figure that we have to eat multiple times a day, so why not make that our main focus during the lockdown. Not only do we end up spending quality time together, we end up enjoying a wide range of delicious and nourishing meals every day.
And because we follow a MediterrAsian way of eating, most of these meals are from Mediterranean regions (such as Italy, Greece, and Spain) and Asian regions (such as Japan, Thailand and India). This means that even though we can't physically travel ourselves, we get to travel the world with our tastebuds!
One of the tastiest things we've made recently is this Italian cherry tomato and rosemary focaccia bread, which contains half whole wheat flour for extra goodness. It's got all the comforting qualities of fresh home-baked bread, with the added flavor and texture of sweet cherry tomatoes and aromatic rosemary.
Cherry tomato and rosemary focaccia bread
Serves 4
Nothing beats the flavor or aroma of freshly baked focaccia bread. This focaccia is topped with sweet cherry tomatoes and rosemary, and contains half whole wheat flour for extra goodness.
1 teaspoon instant dry yeast
2 teaspoons sugar
1 cup warm water
1 cup whole wheat flour
1 cup all-purpose flour
2 teaspoons salt
4 tablespoons extra virgin olive oil (+ 1 tablespoon extra for brushing)
15 cherry tomatoes — halved
1 teaspoon dried rosemary
MIX together the dry yeast, sugar and warm water and leave for 10 minutes to activate. COMBINE both flours and salt in a large mixing bowl then stir in the yeast mixture and 4 tablespoons of olive oil to produce a sticky dough. TRANSFER to a well-floured work surface and knead for around 8 minutes, adding more flour as needed to prevent sticking, until you have a smooth, elastic ball of dough. PLACE the dough in a lightly oiled bowl, cover with plastic wrap, and allow to rise for one hour in a warm place (such as a hot water cupboard). FORM the dough into a focaccia-shaped loaf on a baking tray. USE your finger tips to dimple the surface and brush with 1 tablespoon of the olive oil. TOP the loaf evenly with the cherry tomatoes and sprinkle with the dried rosemary. COVER and prove for another 30 minutes in a warm place. BAKE in a preheated 350°F/180°C oven for 30 minutes. COOL on a wire rack.

Variations: Top the plain dough with caramelized onions, anchovies, olives, and thyme to create a Provençal-style focaccia. Or top with finely grated Parmesan cheese then sprinkle with shredded basil leaves. Try other toppings like thinly sliced zucchini, mushrooms and red onions, or char-grilled peppers and eggplant.