SAUCES & DIPS
White bean, artichoke and sun-dried tomato dip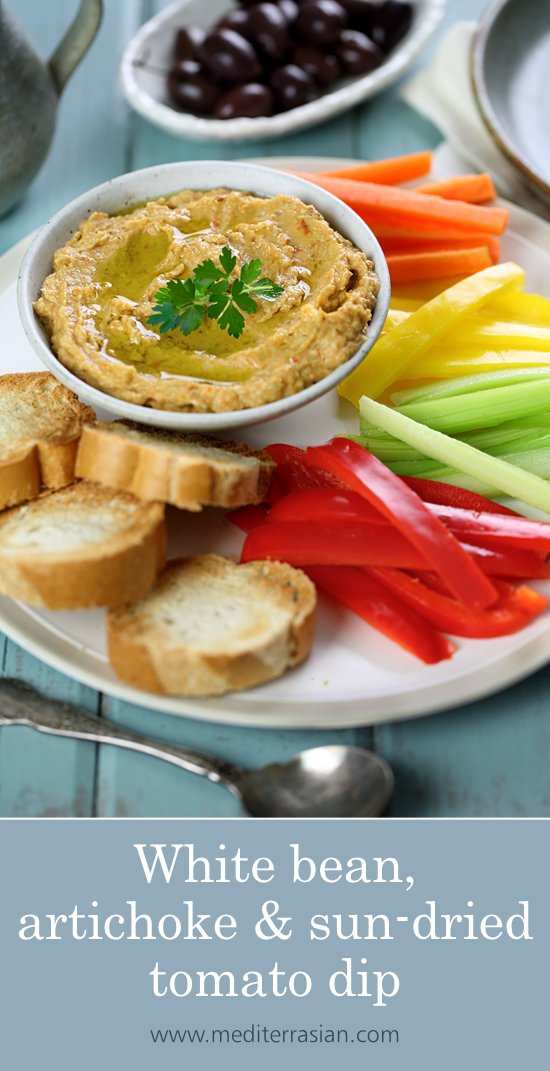 This protein-packed white bean dip is much cheaper and more nutritious than buying those additive-laden supermarket dips. The pureed white beans give the dip a lovely creamy texture, and the addition of canned artichoke hearts imparts a unique flavor which is accentuated by the tanginess of sun-dried tomatoes.
Not only is this a great dip served with a selection of crackers and veggie crudités, it also makes a wonderful spread for bread, especially toasted sliced baguette, crostini or bruschetta, as well as a healthy filling for sandwiches, wraps and pita pockets.
You can make a double batch and keep some in the fridge to graze on over a few days, and freeze the rest for up to two months. In either case, be sure to bring the dip back to room temperature before serving for the best flavor.
White bean, artichoke and sun-dried tomato dip
Serves 4
A rustic Mediterranean-style dip made from a creamy blend of white beans, artichoke hearts, sun-dried tomatoes, extra virgin olive oil and garlic.
½ cup canned cannellini beans — rinsed and drained
2 canned artichoke hearts — roughly chopped
3 tablespoons chopped jarred sun-dried tomatoes
½ garlic clove — roughly chopped
3 tablespoons extra virgin olive oil
1 tablespoon water
1 teaspoon lemon juice
½ teaspoon salt
¼ teaspoon black pepper

PLACE all ingredients in a food processor or blender and process until smooth, scraping the sides occasionally.

Variations: Add 1 tablespoon of chopped fresh herbs like basil or parsley, or a pinch of dried rosemary, oregano, or thyme.