SAUCES & DIPS
Creamy feta and white bean dip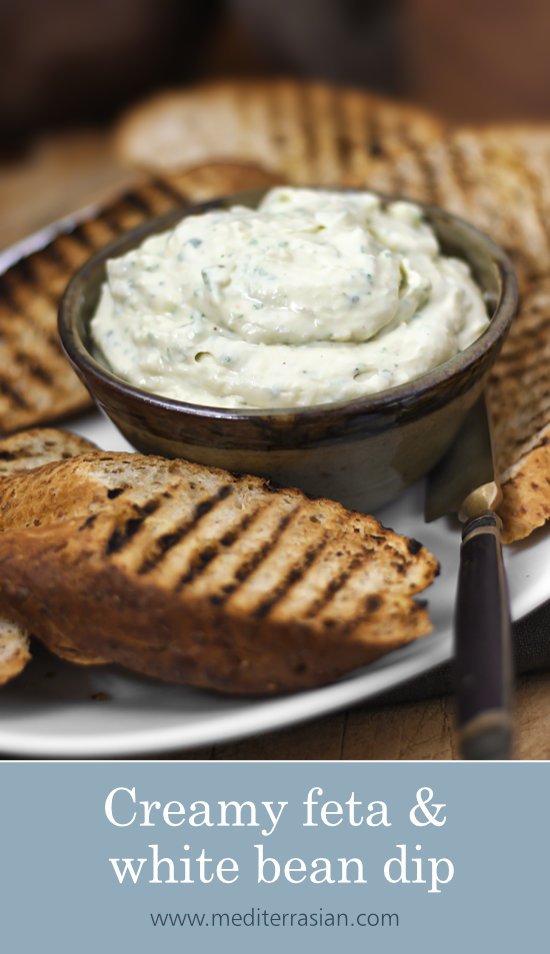 You might have noticed that there are plenty of Greek recipes on our site. The main reason for that is because we absolutely love Greek food — especially traditional Greek dishes like Horiatiki salata (Greek salad) and Tzatziki (Greek yogurt and cucumber sauce).
But we also love experimenting in the kitchen with classic Greek ingredients. That's how we came up with this recipe. We combined five ingredients that are staples in a Greek kitchen — feta cheese, garlic, lemon juice, oregano and white beans. When whizzed together in a food processor or blender, this combination produces a delicious, velvety smooth dip.
Not only does it make a yummy dip (perfect accompanied with toasted wedges of pita bread or vegetable crudités), it also works really well as a spread for sandwiches, toasts and wraps. One of our favorite ways of enjoying it is spread on crusty whole grain toast topped with sliced ripe tomato and a little freshly cracked pepper. We've also really enjoyed it spread over bruschetta and topped with sliced sautéed mushrooms. It can even be tossed with hot pasta and a little of the pasta cooking water to make a quick creamy pasta dish.
By the way, if you love Greek food like Ric and I do, be sure to check out the very enlightening chat I had a while back with one of the world's foremost experts on Greek Food, Aglaia Kremezi, author of the Julia Child Award-winning cookbook, The Foods of Greece.
Creamy feta and white bean dip
Serves 6
A delicious, velvety smooth dip made with a combination of five classic Greek ingredients: feta cheese, garlic, lemon juice, oregano and white beans.
7 oz (200g) feta cheese — crumbled
½ cup canned cannellini beans — rinsed and drained
1 garlic clove — minced
½ teaspoon dried oregano
2 tablespoons lemon juice
3 tablespoons water

PLACE all ingredients in a food processor or blender and process until smooth, scraping the sides occasionally.