BREAKFASTS
Hummus, tomato and feta toast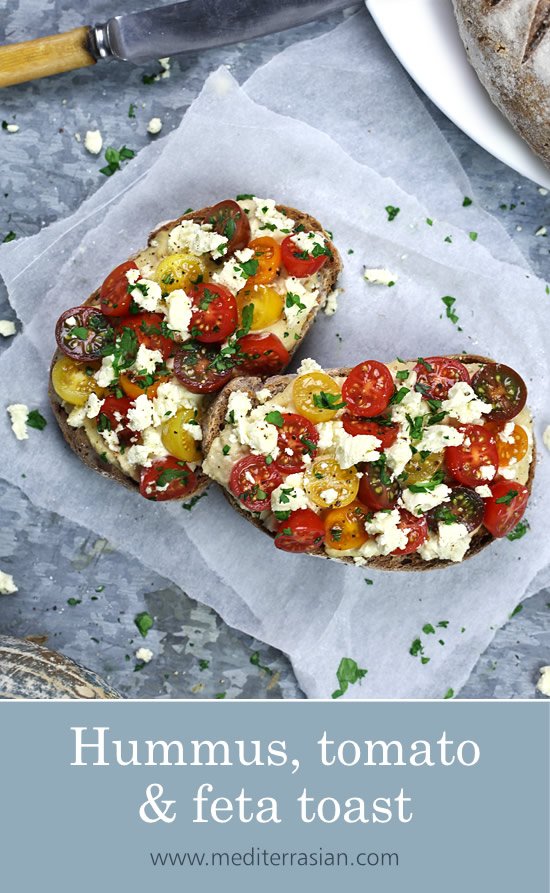 Move over avocado toast, there's a new contender for top toast in town. Meet the hummus, tomato and feta toast. Every bit as creamy and luxurious as avocado toast, but with an extra dimension of flavor and texture, and also more protein thanks to the feta cheese and the chickpeas in the hummus.
It's been on regular rotation at our place lately as a breakfast and lunch because it's not only yummy, it's super quick and easy to make. It's simply a matter of smearing some hummus on toasted crusty bread, topping with tomato (you can use regular sliced tomato or halved cherry tomatoes), crumbling a bit of feta on top, and sprinkling with chopped parsley.
Because the hummus is such an important component, we highly recommend using the best quality hummus you can find, or making your own (here's our hummus recipe). And the riper and sweeter the tomatoes the better.
For extra flavor and texture you can also toast the bread on an outdoor grill, or indoors on a grill pan. Simply brush the bread with a little olive oil before grilling. This makes the bread even crispier on the outside and also imparts a wonderful smokiness into the bread.
Hummus, tomato and feta toast
serves 2
Toasted sourdough bread generously topped with hummus, cherry tomatoes and crumbled feta, then sprinkled with chopped flat-leaf parsley.
2 thick slices of sourdough bread — toasted
4 tablespoons hummus
14 cherry tomatoes — halved (or 2 sliced tomatoes)
1 tablespoon finely chopped flat-leaf parsley
1 oz (30g) feta cheese
Freshly ground black pepper
SPREAD the hummus on the toasted bread. TOP evenly with the tomatoes. CRUMBLE over the feta and season with freshly ground black pepper. SPRINKLE with the chopped parsley.