SAUCES & DIPS
Loaded hummus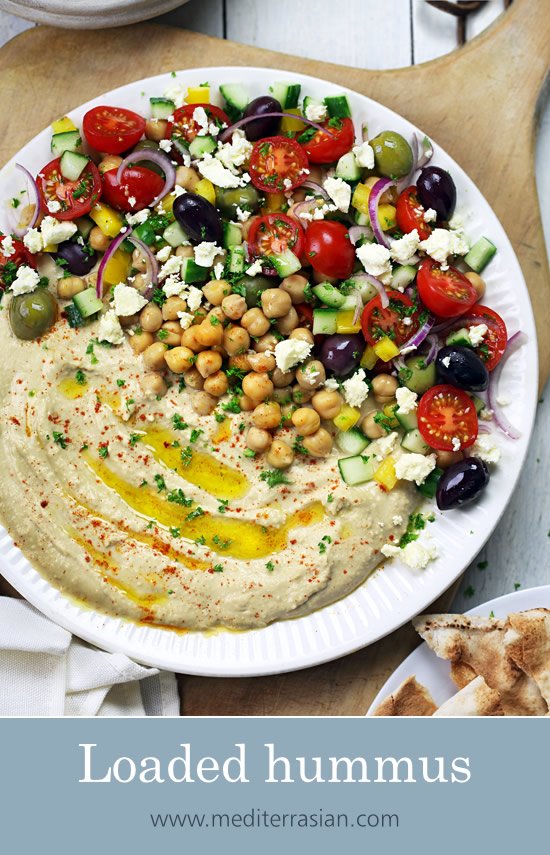 We're big fans of Mediterranean food, so it will probably come as no surprise that we love hummus. But our love for hummus reached new heights earlier this week when we had this 'loaded' hummus accompanied by torn toasted pita bread to scoop up all the goodness.
The creamy hummus combined beautifully with the juicy cherry tomatoes, crunchy cucumber, sweet yellow pepper, robust olives and crumbly feta. And the chickpeas added a wonderful contrasting texture.
It was so delicious, in fact, that we said to ourselves that we'll now find it hard to eat hummus in any other way!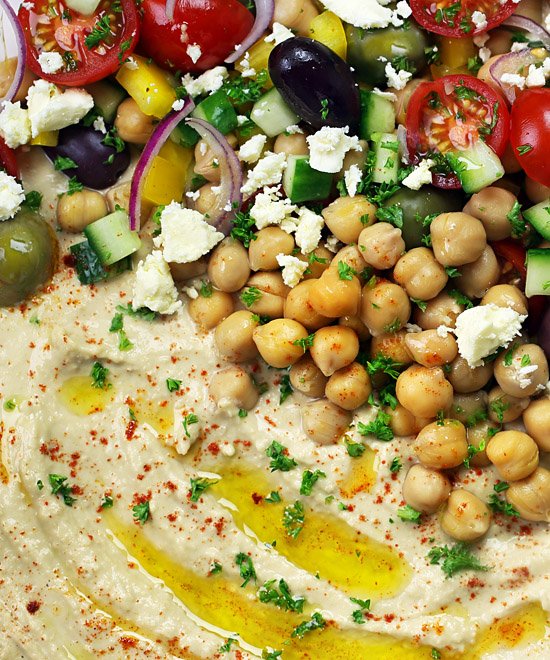 Loaded hummus
SERVES 4
Smooth and creamy hummus topped with cherry tomatoes, cucumber, yellow pepper, olives, red onion, chickpeas and feta, then drizzled with extra virgin olive and lightly sprinkled with paprika and chopped parsley. Perfect served with torn pita bread (fresh or toasted).
2 cups hummus (store bought or
homemade
)
12 cherry tomatoes – halved (or diced tomato)
⅓ cup de-seeded, diced cucumber
½ yellow pepper – diced
12 pitted olives (black, green or a combination)
2 tablespoons sliced or diced red onion
½ cup canned chickpeas
1 oz (30g) crumbled feta
1 tablespoon finely chopped parsley
A pinch of paprika
MIX together the cherry tomatoes, cucumber, yellow pepper, olives, red onion and half the chickpeas in a bowl. SPOON the hummus onto a large plate, and use the back of the spoon to spread it out evenly. TOP half the hummus with the vegetable and olive mix. PLACE the remaining chickpeas in a pile towards the center of the plate. TOP with the crumbled feta then drizzle over the olive oil and garnish with the paprika and parsley.