PASTA DISHES
Sardine and green bean pasta with lemon and chili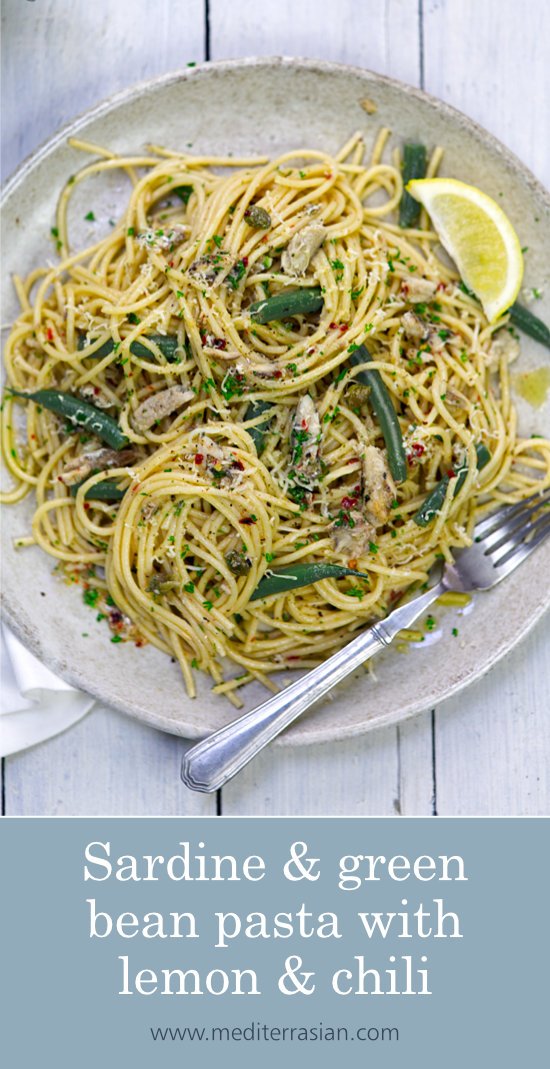 Having a healthy immune system is of great importance. And having a healthy diet rich in vitamins, minerals, antioxidants, dietary fiber and good fats is one of the best ways to ensure your immune system is functioning at optimal levels.
But are there other ways you can boost your immune system? Actually a growing body of research (including here and here) has found that a family of 'housekeeping' genes in the body called sirtuins can help to positively regulate immune function. And sirtuins have a wide range of other benefits too — from slowing cellular aging and repairing DNA to helping the body better regulate blood sugar levels and improving the body's ability to burn fat for energy.
Sirtuins are activated when calories are severely restricted, such as during periods of fasting. But there's another far less restrictive way to activate sirtuins in the body – by eating sirtuin-activating foods.
It turns out that foods rich in natural plant compounds called polyphenols activate sirtuins in a very similar way to calorie restriction, but without having to restrict calories.
So which foods are richest in polyphenols? Research by German scientists from the University of Kiel in 2013 found that many traditional Mediterranean and Asian foods are rich in polyphenols that help activate sirtuins. Here's a list of the top sirtuin-activating foods:
Extra virgin olive oil
Turmeric
Red wine
Green tea (particularly matcha)
Red onions
Capers
Walnuts
Soyfoods (such as tofu, miso and edamame)
Seaweed
Parsley
Chilies
Dark chocolate
Not surprisingly, the researchers recommend following a MediterrAsian diet (a hybrid of the Mediterranean diet and Asian diet) for "preventing chronic diseases, thereby ensuring health and healthy aging."
This happens to be the same diet that Trudy and I have been following for many years. So we can tell you from personal experience that it's very easy to consume a wide range of polyphenol-rich foods when you follow a MediterrAsian diet. In fact it's hard to have a Mediterranean or Asian meal without consuming at least one of these foods.
Our latest recipe is a perfect example of what I mean. Four of the ingredients — capers, extra virgin olive oil, parsley and chili – are rich in polyphenols which activate sirtuins. And if you wash the meal down with a red wine, you'll be consuming even more sirutin-activating polyphenols.
Sardine and green bean pasta with lemon and chili
serves 2
A simple omega-3 rich pasta dish with sardines, green beans and a range of tasty immune-boosting ingredients including extra virgin olive oil, capers, parsley and chili.
7 oz (200g) spaghetti
1 can of sardines in oil — drained and chopped
¼ teaspoon dried chili flakes
1 teaspoon capers
1 garlic clove — minced
1 tablespoon finely chopped flat-leaf parsley
1 tablespoon lemon juice
1 teaspoon salt
¼ teaspoon freshly ground black pepper
3 tablespoons extra virgin olive oil
16 green beans — trimmed and cut into thirds
Finely grated Parmesan cheese, to serve
MIX together all the ingredients, except the pasta and green beans, in a bowl until well combined. COOK the pasta in a large pot of lightly salted boiling water according to package directions, adding the green beans to the pot for the final 6 minutes of cooking. DRAIN the pasta and green beans, reserving 2 tablespoons of the pasta cooking water in the pot. TOSS the pasta and green beans in the pot with the sardine mix and serve topped with a little finely grated Parmesan cheese.