FOOD & COOKING
20+ tasty ways to enjoy canned tuna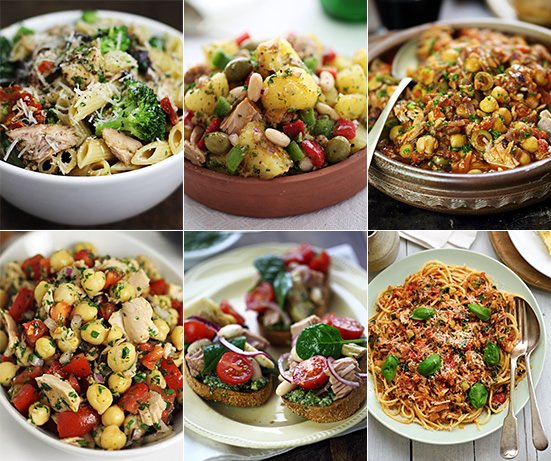 Of all the foods we keep in our pantry, canned tuna is one of the most versatile ingredients. In fact, with a little imagination, and some inspiration from Mediterranean and Asian cuisines, it's easy to take a humble can of tuna and turn it into an almost endless variety of tasty, nourishing dishes. Here are some ideas:
Tuna in Salads: Canned tuna makes a healthy addition to bean-based salads such as Tuna and chickpea salad and Spanish potato, tuna and white bean salad, and takes center stage in the Provençal classic Salade Niçoise. Try tossing a can of tuna into our French herbed lentil salad (the flavor of puy lentils and fennel complements tuna perfectly) or add canned tuna to our Moroccan chickpea and couscous salad.
Tuna and Pasta: Take two pantry staples — tuna and pasta — and you can create an easy meal in no time. Enjoy canned tuna in simple tomato-based pasta sauces including Tuna, zucchini and basil pasta, or Lentil tuna Bolognese, or Pasta with tuna, broccoli, olives, sun-dried tomatoes and basil. Canned tuna also makes a delicious addition to Pasta puttanesca, while also boosting the protein and omega-3 content. Assemble a pasta bake with tuna and ingredients like onion, tomato, spinach, zucchini, eggplant, peppers, broccoli, olives and herbs. Or combine tuna with ricotta and spinach in a cannelloni or lasagna. Or simply toss chunks of canned tuna into pasta salads with vegetables and a herb vinaigrette or pesto.
Tuna in Stews: Add a can of tuna to rich tomato-based braises and stews. In our rustic and flavorful Spanish braised chickpeas with tuna and olives, canned tuna is stirred into a smoky tomato sauce with stuffed olives and fresh parsley. Canned tuna also works wonderfully in Italian style stews.
Tuna and Bread: Give your tuna sandwiches an ethnic twist with a few flavorful additions. Add an Asian accent to a tuna baguette with ingredients like cilantro, bean sprouts, fish sauce and pickled vegetables in Banh mi. Use canned tuna to top bruschetta such as Pesto bruschetta topped with tuna, white bean, cherry tomato and artichoke salad, as a pizza topping, or as a filling for panini or foccacia with baby spinach, roasted red peppers and pesto or tapenade. Make an Italian-style tuna melt by mixing canned tuna with chopped sun-dried tomatoes, olive or capers, fresh basil or pesto, and top with mozzarella before broiling.
Tuna with Rice: Another terrific combo is tuna in risotto, which goes particularly well with tomato, pea, zucchini, leek, fennel or asparagus. Just make sure to stir the canned tuna into the risotto at the end of cooking to warm it through. You can also use canned tuna as a filling ingredient in Sushi rolls and Sushi hand rolls. Stir canned tuna with mayo and roll up with seasoned sushi rice and nori seaweed together with any combo of cucumber, scallion, carrot, mushroom, avocado, omelet, and sesame seeds. Try using tuna in Indian rice dishes and curries. Canned tuna is also perfect tossed in rice salads.
Tuna with Potatoes: Stuff a jacket potato with tuna and ingredients like peas, corn and scallion. Make a gratin with layers of thinly sliced potatoes, leek or onion, and canned tuna, plus grated cheese mixed into a white sauce, then bake in the oven.
Tuna and the rest: You can use canned tuna to stuff vegetables like sweet juicy tomatoes and peppers. Canned tuna can also be added to egg dishes including frittatas, omelets and quiches. And you can mix canned tuna with breadcrumbs and egg, shape into patties, and pan-fry until crisp and golden. They're great for burgers with the usual fixings, or serve with vegetables or salads on the side.